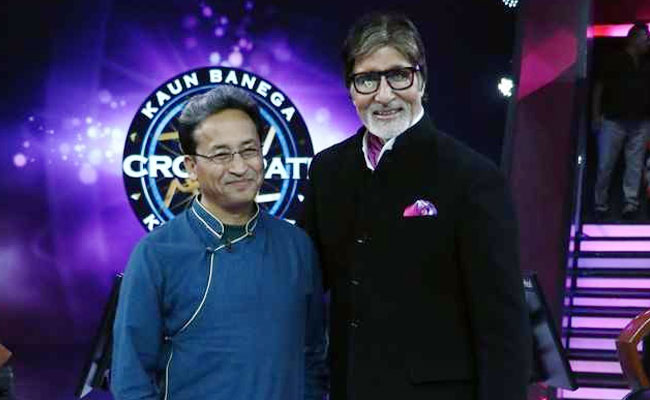 The Friday episode of Kaun Banega Crorepati kickstarted with rollover contestant Aditya Dubey on the hot seat with host and megastar Amitabh Bachchan.  After exhausting all his life lines, the 27-year-old contestant from Bhopal got confused when Big B threw Rs 3.2 Lakh question at him. It was then that Aditya decided to quit thus, taking home a prize money of Rs 1.6 Lakh.  The highlight of the episode came when Amitabh Bachchan welcomed special guest Sonam Wangchuk on the hot seat. Sonam Wanghchuk, an engineer, an educational reformist and an innovator from Ladakh was accompanied by one of his students on Kaun Banega Crorepati.
Sonam Wanghchuk, who is fluent in several languages mesmerized the audience with Amitabh Bcahchan famous dialogue. The emotional twist when the innovator said that he would like to quiz Big B. It was then that Mr Wanghchuk uttered few words from Harivansh Rai Bachchan's poetry and asked the Sarkar 3 actor to identify the famous poet. This got Amitabh Bachchan emotional and revealed that the personality in questons was none other than his father Harivansh Rai Bachchan.
It is believed that Aamir Khan's character Phunshuk Wangdu in the film 3 idiots was inspired by Mr Wangchuk. When Big B talked about the same with Mr Wangchuk, he said he feels sad that people come to know about inspiring personalities only through films. 
Sonam  Wangchuk, who is the founder of Students' Educational and Cultural Movement of Ladakh (SECMOL), played Kaun Banega Crorepati exceeding well and, went on to win a whopping prize of Rs 50 lakh. The inspiring personality is working towards a better educational platform for the children of Ladakh. Mr Wangchuk builds Ice Stupas to facilitate irrigation in the desert areas of the western Himalayas. These brilliant pieces of engineering are actually conical ice mounds that act like mini-glaciers and slowly release the water for agriculture. The term Ice Stupa was coined by him.
Kaun Banega Crorepati season has earned the highest TRP points from September 30th to October 6th, and has emerged as the most watched Indian Televison show at the moment.
For more entertainment news and updates, follow our Facebook page