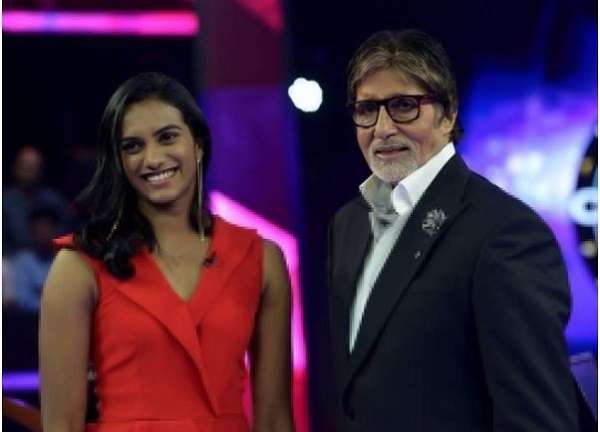 Amitabh Bachchan's show Kaun Banega Crorepati 9 had a special touch in last night's episode. It started with the rollover contestant Minakshi Jain from Mumbai. Jain is a housewife, who had to leave her education after high school due to her personal conditions. But due to her will and dedication, even to this age, she keeps on educating herself. She narrated the story of her sister, who divorced from her husband. And as the repercussion of that broken marriage, her father was socially boycotted by the society. According to her, Jain community considered it a sin to take dissolve a marriage. 
In Thursday's episode, Jain cashed Rs. 10,000 on the show, before the time ran out. She lost one lifeline on Thursday. She was accompanied by her sister and father. She was playing surprisingly well and even made it to the Rs. 1 crore slot. But she wasn't sure about the answer and a wrong answer could have rolled her back to Rs. 3,20,000. Being judicious, she decided to quit the show, taking home Rs. 50 lakh. Amitabh Bachchan appreciated the way she keeps learning new things in life, despite being only high-school educated. It was a huge affair for a high-school educated woman to win this big amount on KBC. 
Later, in the segment called 'Nayi Chaah, Nayi Raah', Big B announced the arrival of Indian shuttler PV Sindhu on the show. Under this new initiative, every Friday, Amitabh Bachchan invites those faces on the show, who have brought about a positive change in the society. PV Sindhu was accompanied by her sister, Divya, who is a doctor by profession. Amitabh Bachchan initially mispronounced her name as Vidya, which was later corrected by Divya herself. PV Sidhu was surprised by her coach Pullela Gopichand, who had a special message for her. She and her sister decided to donate the amount to a hospital which provides free treatment to the underprivileged population. 
Watch contestant Meenakshi prove that no limitation can stop you from achieving your dreams! Be a part of many such stories on #KBC. pic.twitter.com/2tlXau9ayF

— Sony TV (@SonyTV) October 5, 2017
Amitabh Bachchan also insisted PV Sindhu to send out a special message to the young generation of the country. To this PV Sindhu only said, 'Hard work is the only mantra'. She won Rs. 25 lakh on the show.