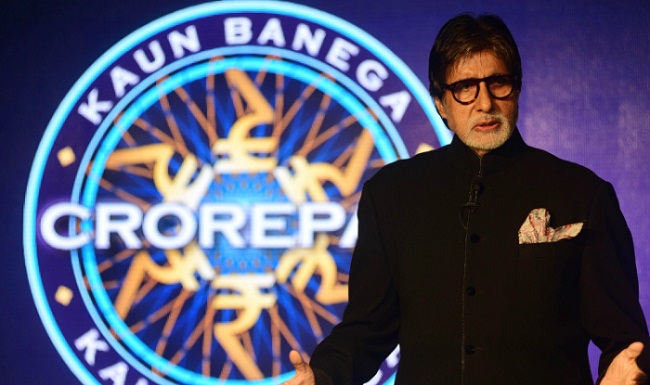 Friday's episode of Kaun Banega Crorepati brought along some emotional disclosures by host Amitabh Bachchan. It began with Big B telling the audience that the season will be airing its last episode on November 6, Monday. The game commenced with the fastest finger first round where Moein Wargis from Gujarat became the lucky contestant to take the hot seat. Moein is a teacher by profession but it was his inter-religion love story that enthralled both Amitabh Bachchan and the audience. He also revealed that if it wasn't for his wife, he wouldn't be sitting on the hot seat.
While talking to host Amitabh Bachchan, he shared some anecdotes of his love story and his profession. In return, Big B also narrated a story from his school days.
Moein, however, did not play very well. By the 10th question, he had exhausted all his lifelines. On reaching Rs 3,20,000 he decided to call it quits. Big B had a sweet surprise for him. He video called his wife Deepti on the show.
Amitabh Bachchan reveals that Monday is going to be the last episode for season 9 of Kaun Banega Crorepati. The special episode will be known as 'Abhinandan Aabhaar', which means expressing gratitude. In the special segment of the show, Amitabh Bachchan will have Indian cricketer Yuvraj Singh and Bollywood actress Vidya Balan as his guests. It is reported that the Yuvraj Singh and Vidya Balan finished shooting for the episode.
"Thank you all for making this another historic event in the history of the show. Seventeen years ago, it created history and you have made it happen again. That is no small task. The show is No. 1 in its rankings and has brought the channel Sony to No. 1 position," Amitabh Bachchan said.
T 2589 - FINISHED .. !! front page of a prominent magazine, here, some years ago for me .. but today finished KBC .. done !! Fall vs Rise ! pic.twitter.com/yHwWQVWOKe

— Amitabh Bachchan (@SrBachchan) October 23, 2017
T 2588 - And KBC draws to a close .. !! Penultimate day and the absence of all those connected to be away .. a sadness ! pic.twitter.com/Q7tCdg8fd1

— Amitabh Bachchan (@SrBachchan) October 22, 2017