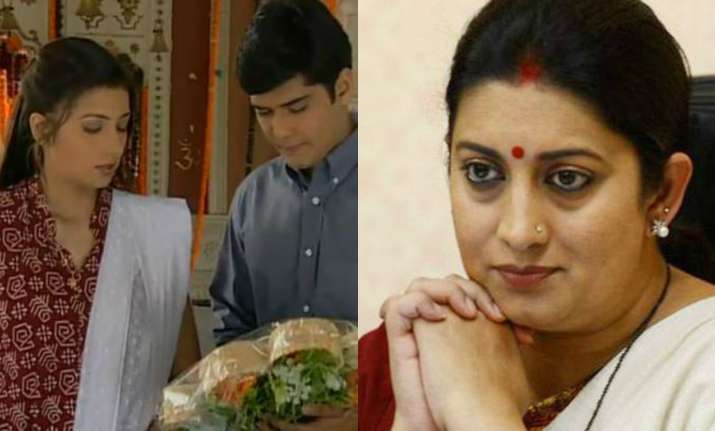 Life came into a full circle for Information and Broadcasting Minister Smriti Irani when she was invited on the stage of Indian Television Academy Awards. Speaking at the 17th ITA Awards where she was conferred the ITA Pride of Indian Television award, Mrs Irani said that ''Kyunki Saas Bhi Kabhi Bahu Thi'' team rejected her as "not fit" for television. She went on to add that in spite of that producer Ekta Kapoor chose her to lead the cast of the popular serial.
"I have been associated with television for over 20 years now. Television gave me a platform to enter Indian political space and I will be forever grateful for that. Also, Ekta Kapoor spotted me among the many young girls who had come for audition and selected me despite her team having rejected me as not fit for TV,'' said Mrs Irani. "In 2007, when I was the anchor at the ITA Awards, I had invited the then Information and Broadcasting Minister on stage,'' she added. Irani, a former Miss India contestant, had risen to popularity as Tulsi Virani, the protagonist of the "saas-bahu" show which was launched at the start of the millenium and had a long run of over 1,800 episodes.
Ekta and Irani, who continue to remain friends, made the most of their time together at the ITA Awards event. Ekta even clicked a selfie with her and posted it on social media.At the gala, Ekta, who was named the ITA Sterling Icon, said: "There is one episode relating to Smriti Irani which I have to narrate. I used to call my nanny 'Amma' and she was so hooked to Smriti's character that every night, she would narrate the happenings from the show to me. So once I took her on the sets to meet Smriti and Smriti bowed down and touched her feet."That image of Smriti will remain with me forever."
Ekta's father and veteran actor Jeetendra said: "My memories of Smriti from her 'Kyunki...' days are still so fresh. Her dedication to her craft was exemplary and it was evident from her young days that she was cut for bigger things." 
(With IANS inputs)