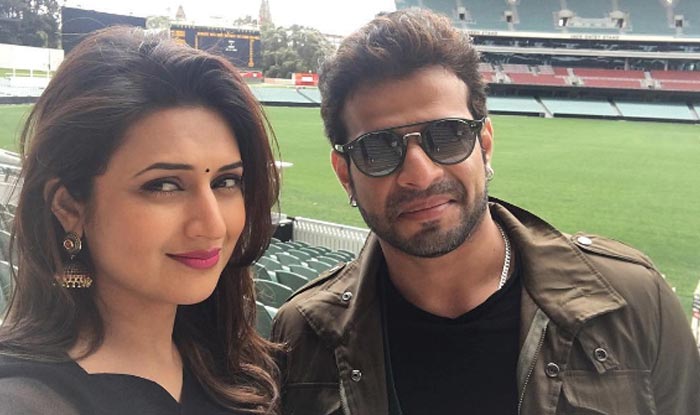 TV's most loved 'bahu' Ishita Bhalla aka Divyanka Tripathi turned 33 on Thursday. On this special occasion, the actress's Yeh Hai Mohabbatein co-stars are getting all mushy on their adorable co-star. Divyanka is currently out of the country with husband Vivek Dahiya to celebrate her birthday and trust us when we say, they're having a blast out there! The couple also shared many pictures from their trip on social media.
Divyanka Tripathi has been working in the industry for more than a decade. She's become an apple of people's eyes ever since she stepped into the shoes of 'Ishi Ma' for popular TV show Yeh Hai Mohabbatein. She won a string of awards for her performance in Ekta Kapoor's daily soap.
On her 33rd birthday, her friends and co-stars are more than just elated and hence, they took to social media to express their heartfelt feelings to the actress.
Divyanka Tripathi's on-screen love interest and husband Karan Patel posted a picture of him and her together and wrote: Wish you a very very happy birthday Divyanka .... may god give you all the reasons possible to keep wearing that charming smile forever n ever ...! Lots n lots of love and luck ...! God bless ...! @divyankatripathidahiya the cake facial is pending ... come back and we shall do the ritual ...!
Karan Patel's real life wifey and TV actress Ankita Bhargava also showered love for her husband's on-screen wife. She wrote: Happy Birthday @divyankatripathidahiya !! May god bless you for years to come! May that smile brighten with each passing year and May u have the most happy healthy and peaceful year ahead!!! Godbless
Divyanka Tripathi's beloved Ruhi aka Aditi Bhatia wrote a full-fledged post for her on-screen Ishi Ma. Here's what she said, "Happy birthday to the most sweetest and kindest person on this whole planet.
More than Divyanka didi you are my Ishima  Words are seriously less to describe the kind of bond we share (thu thu thu, kisi ki nazar na lage ) At first I could never believe that someone can actually be so gentle, always so welcoming and smiling, caring, down to earth and so understanding, but after meeting you, I know this for sure that people like you should exist more and more in this world and more and more in my life. Thank you for always guiding me and for making me a better person I know I always have your back and you have mine. I love you ishima, happy happy birthday to you, always keep smiling! Wish the best for you
TV producer Ekta Kapoor posted a groupfie with the cast of Yeh Hai Mohabbatein to wish her on her birthday.
Divyanka's devar Romi aka Aly Goni shared a beautiful monochrome picture of the actress.
TV actress Mahi Vij also took to Instagram to wish her friend on her 33rd birthday.
Divyanka Tripathi is currently playing the role of Ishita Bhalla in Yeh Hai Mohabbatein. It has been confirmed that her character is going to die while saving daughter Pihu. It's not yet confirmed if Ishita Bhalla will return in the show or not.