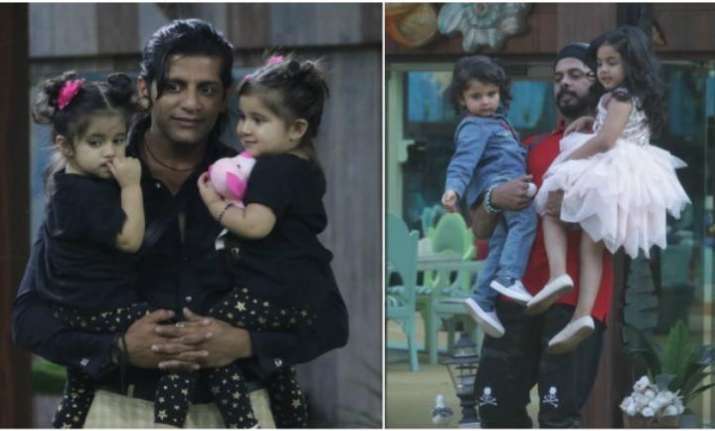 Tonight's episode of Bigg Boss 12 was high on emotion as the family members visited the house. This week's luxury budget task is called Remote Control where Bigg Boss gave commands to the contestants to either pause, play, rewind or fast forward. The contestants had to follow the command and not breach it in order to win the luxury budget.
Karanvir Bohra's wife Teejay Sidhu enters with their twin daughter Bella and Vienna. Karanvir broke into tears after seeing his family inside the house. His daughters kissed and hugged him. When Teejay pointed out at Sreesanth and ask Bella who's he, she was quick to respond and surprised everyone by taking his name. Sreesanth broke into a smile hearing his name from the little one. Bella rewarded Dipika and Deepak with a kiss. The little ones who were all giggles after meeting their father gave an emotional farewell to him. They refused to leave their father's hand and cried profusely when they were taken away from him.
Bacchon ko dekh ke ro pade @KVBohra. Kaise deal karenge woh unke wapas ghar jaane ka gham? Dekhiye aaj raat 9 baje! #BiggBoss12 #BB12 #FamilySpecial @iamappyfizz @oppomobileindia @TheGarnierMan @letsdroom pic.twitter.com/TtQCZ9IWsn

— COLORS (@ColorsTV) December 9, 2018
Teejay praises Sreesanth and Dipika for supporting KV behind his back. She also asks Deepak never to betray KV's trust.
Sreesanth's wife Bhuvneshwari enters the show. She tells him that he has been playing a great game but also asks him to have a little control on his anger. She also requests him not to hurt himself. Bhuvneshwari meets Deepak and asks him to be Sreesanth's brother as they were earlier. She then meets Surbhi and gives her an earful. She also blasts for playing the women card whenever convenient.
She says that Sreesanth might forgive her, but, she would never be able to forgive Surbhi for the personal comments she has made against his cricket, for Sreesanth, his kids and his family. She also calls Surbhi a 'thankless' person. Bhuvneshwari also informs Surbhi that Harbhajan had called to sort things out and there is nothing wrong between the two.
Deepak breaks down into tears. His father asks Deepak to entertain everyone and not to disrespect anyone. Deepak's father leaves the house. What's funny is that Deepak's father tells Somi that her angle with Deepak is good but their marriage can't happen.