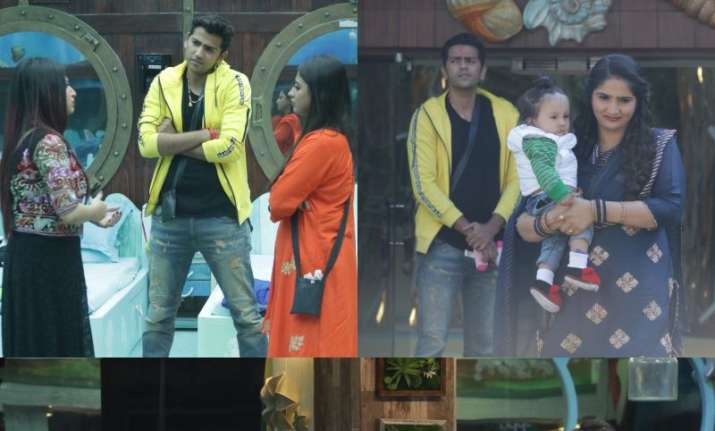 The reunion of families continued in Monday's Bigg Boss 12 episode. Salman Khan promised more emotional moments in the upcoming episodes. Karanvir, who had a very emotional reunion with his twin daughters and wife Teejay Sidhu was extremely overwhelmed on having his lifelines around him after a hiatus of three months. It is good to see the family spending some memorable moments together but when the time is up, Karanvir's twin daughters refused to go out of the house without their father.
This week's luxury budget task - Remote Control controlled the emotions of each housemates differently. Each family member entering the house, got some advice with them for everyone. On the second day of the remote-control task Romil's wife and his son entered the house to meet him and Dipika Kakar, Somi Khan also got to meet their loved ones.
Romil introduced Somi to his wife as his best friend to which his wife immediately corrected him and said that Somi is like his younger sister. She also told Surbhi that she should be sensible before passing any comments for Romil.
Surbhi walks out and Dipika Kakar says that every family member who has come has said bad things to Surbhi. She breaks down and says she can't understand what she should do since nobody is understanding her. Soon all the housemates console her and tell her that since she has realised her mistake, it's ok.
The task was about to end and Dipika was eagerly waiting for her husband Shoaib. He made a dramatic entry from the confession room. He narrated a poem in Urdu for Dipika and made Sreesanth his official brother in law. As Dipika was expecting to see her husband, she had prepared her famous 'Atta ka Halwa' for him. Shoaib also went down on his knees and gave her a rose. In the matter of few minutes Shoaib and Dipika gave some couple goals to all the housemates. Shoaib's visit to Dipika was indeed very beautiful yet dramatic.