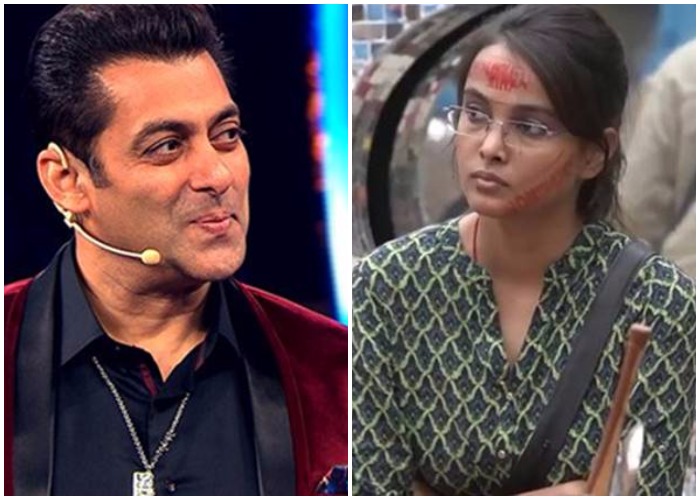 Bigg Boss is all about entertainment and fights, and we have come to terms with the fact. But last night's episode was shocker at an instant, but in a positive way. In last few episodes, we saw Jyoti Kumar discussing sexual orientation of Vikas with him and Luv, naively. She innocently asks 'Aapki generation aage kaise badhegi agar aapko ladke pasand hain to?' (How will you forward your generation if you're gay?). Vikas Gupta's sexuality is the most mocked and discussed topic in the house, so it made Jyoti a bit quizzical about it. Vikas and Luv mockingly staved off the discussion by answering her partially. 
Last night in Weekend Ka Vaar, Salman Khan first grilled each contestant by calling them in a makeshift witness box. After a round of allegations and clarifications, he jumped to discussing something informational. He first mentioned Jyoti and then continued to discuss each term 'bisexual', 'homosexual' and 'heterosexual' one by one. Salman Khan politely narrated the meaning and implications of each term. Jyoti, on the hand, also listened to him attentively.This brief sex education lesson was concluded by a thunderous applaud from the audience as well as the housemates. 
I, sitting on the other side of the television, also had an impulse to applaud Salman Khan's effort to educate Jyoti about sexual preferences. While most of the duration of the episode, housemates and Salman are seen discussing fights, friendships and fallout, seeing something valuable coming out of the interaction was a welcome change. Many housemates are seen mocking Vikas Gupta and Sabyasachi's sexuality. By talking about homosexuality in a plain manner, Salman Khan sent a message straight that being a bisexual or homosexual is no offence, and it needs to normalised as any other thing in our society.