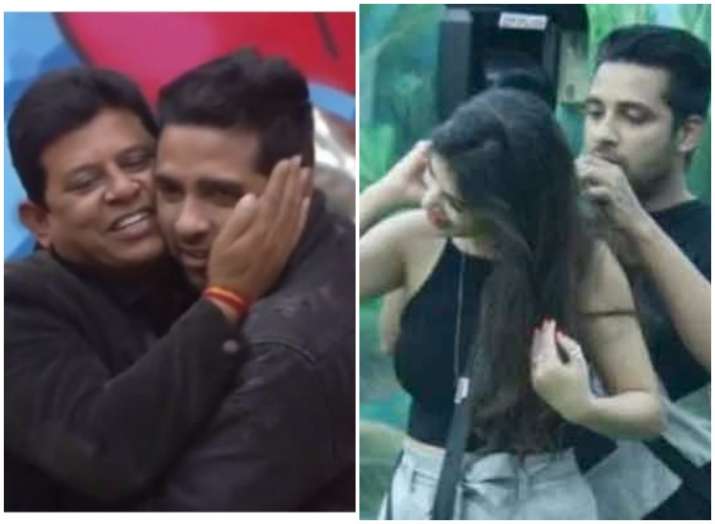 Even after Bandgi Kalra's eviction from Bigg Boss 11 last week, her relationship with Puneesh Sharma is still one of the talked about topics across internet. The duo fell in love in the reality show sharing unforgettable and some cringeworthy moments inside the BB 11 house. However, bidding farewell to Bandgi was not only an emotional ride for Puneesh but also the audience felt the pain. While Bandgi's brother earlier stated that her relationship with Puneesh was simply a game strategy, Puneesh's father has reacted otherwise.
Puneesh Sharma's father, who entered the Bigg Boss 11 house on Thursday episode and made everyone emotional, said he was quite shocked at first when he came to know about his son's relationship with Bandgi Kalra.
"Initially, it was quite shocking and awkward for us. Ekdum se jhatka laga woh dekh kar. But I have come to accept that it is just a part of the game. Everybody fights on the show. Everyone is playing a game here. So, it does not upset me or make me uncomfortable at all", Puneesh's father was quoted as saying to Times of India.
Furthermore, he also expressed his happiness on meeting his son after two months. He said, "When I first saw him, mann bhar aaya. We started crying because it was such an emotional moment. He hasn't been away from home for such a long time in several years, which is why meeting him felt so good. Woh bhi kaafi khush ho gaya mujhse mil kar."
Puneesh Sharma and Bandgi Kalra were one of the infamous couples of Bigg Boss season 1. From Puneesh's marriage to Bandgi's ex-boyfriend Dennis Nagpal, their relationship has tasted various controversies. Now, both seem to be smitten by true love. 
While Puneesh is often seen crying over missing Bandgi in Bigg Boss 11 house, software engineer turned model has made it clear that she loves Puneesh even after her eviction from the controversial show.
For more entertainment news and updates, follow our Facebook page