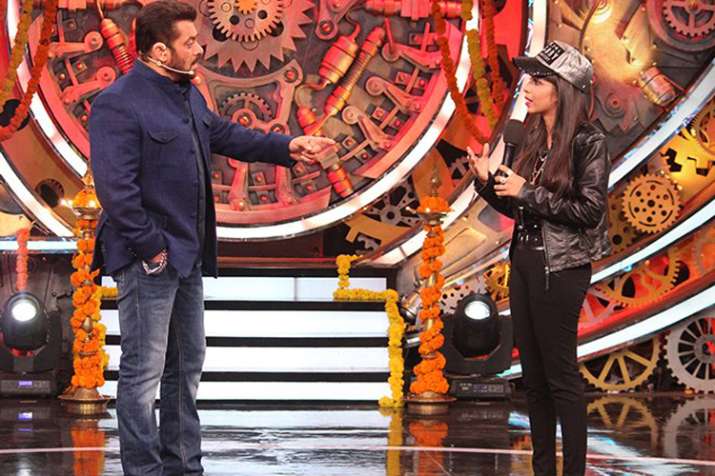 Bigg Boss 11 has already become one of the popular shows of the small screen and the makers are leaving no stone unturned to keep the audiences hooked to the TV screens. This time internet sensation Dhinchak Pooja entered the Bigg Boss house as the wild card contestant. Last episode of the controversial TV reality show was a treat for reasons more than one.
The episode started with Salman Khan interacting with housemates. Some of the contestants were asked to give answers of some questions. Sapna Choudhary, who talked about Bandgi Kalra and Puneesh Sharma's relationship irked Bandgi. Later some of the actors of the Colors family were seen enacting contestants which gave laughter riot to viewers.
Bigg Boss contestants then entertain Colors actors with their acts. At the end, Hina Khan and Sapna's dance performance won everybody's hearts. Salman then informed that this week everybody is secured from eviction.
Then came the amazing moment when Salman introduced Dhinchak Pooja as the wildcard contestant. The actor couldn't control his laughter after listing to her songs. He then also sang one of her famous songs 'Selfie maine le li Aaj'.
The lady then entered the house and then contestants couldn't control but sing her song. It goes without saying that with Pooja's dhinchak entry, the coming episodes are going to be much more fun.