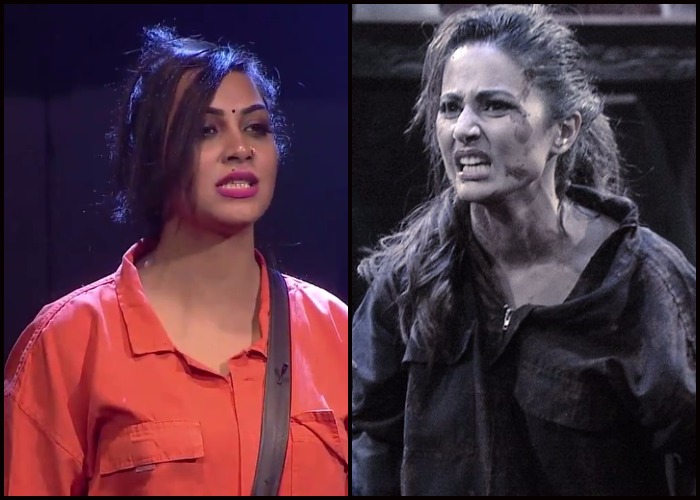 Every episode of Bigg Boss11 sees new fights and fallout. In the first Weekend Ka Vaar, Arshi Khan and Hina Khan reconciled and made up to each other. But going by their status quo now, it seems that was just a publicity stunt. Arshi and Hina are at loggerheads once again after former stole Diwali sweets during her Kaal Kothri punishment. The brawl got ugly when Arshi spat on Hina. Yesterday, Salman Khan addressed the issue between Arshi and Hina by pitting them against each other in the Akhaada.
Salman Khan asks the housemates to rank each other on the basis of popularity in the house. They have to place the housemates on a scale of 1 to 10. Remaining four contestants who were not entertaining will not be on the scale. In their ranking Shilpa Shinde is at number 2 while Hina Khan ranks number 1.
But Salman Khan thought that only 4-5 contestants are active on the show while remaining are just enjoying the free rides. He didn't like Sabyasachi Satpathy on number four. He also addressed how Vikas Gupta pushed Puneesh Sharma away during the luxury budget task. But Salman excuses him as he reacted to what happened to him during the task.
Salman Khan removed Benafasha Soonawalla and Sabyasachi Satpathy from the list and replaced them with Vikas Gupta and Jyoti Kumari. Housemates and host Salman makes Luv Tyagi sit on the bull for not being a good boy in the house.
Salman reprimanded the contestants for using the words like 'nalla' and 'kutta' in the show, which he himself used while grilling Zubair Khan. He also said everytime they used this word, they made him feel guilty.
For being against each other in Bigg Boss house, Hina Khan and Arshi Khan were pitted against each other in the Sultani Akhada. But the game which was intended to be played with good spirits, but it got ugly when Arshi Khan used force on Hina. Salman Khan was disappointed with both Hina and Arshi and dismisses the game.
Its Arshi Khan v/s @eyehinakhan in the Sultani Akhada! Watch this battle only on #BB11 tonight at 9 PM. #BBSneakPeek #WeekendKaVaar pic.twitter.com/33y2QxRSft

— Bigg Boss (@BiggBoss) October 21, 2017
In the house, Benafsha approached Hina to sort matter with her, but Hina was in no mood to settle the dispute. She was disappointed at Benafsha for not supporting her during the task.
Salman Khan discussed the nominated contestants this week and leaves the house.
In the preview, Salman Khan is seen grilling Dhinchak Pooja for her cringe-worthy rap. He also tries to croon along with her. Watch Bigg Boss 11 today, when Salman Khan welcomes Dhinchak Pooja on the show.
.@beingsalmankhan tries his hand at singing 'Selfie Maine Le Li Aaj' with Dhinchak Pooja! Watch all the fun at 9 pm on #WeekendKaVaar! pic.twitter.com/5mpSR7k5Bj

— COLORS (@ColorsTV) October 21, 2017