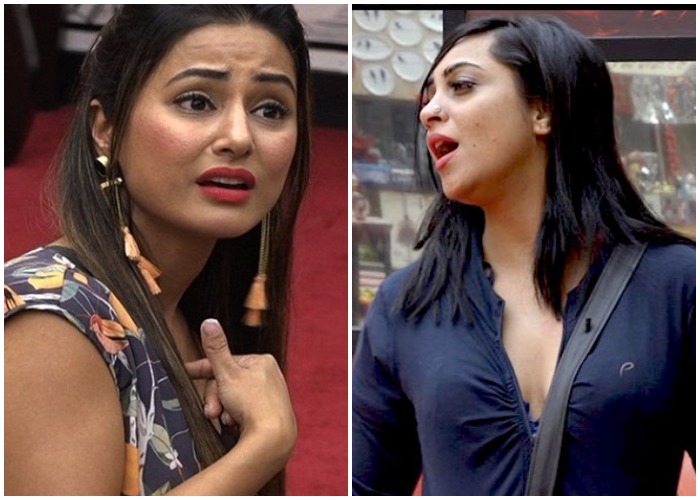 The courtroom drama which is the luxury budget task of this week, started a couple of days ago. It carried the theme of Arshi-Hiten's divorce case. Akash, Hina, Luv and Priyank were on Hiten's side while Vikas, Shilpa, Puneesh were on Arshi's. Bandgi and Sapna were presiding judges of the session. While the Bigg Boss 11 court task was meant just for fun, things went ugly when personal allegations were made on Arshi Khan. The last two days saw a string of ugly fights between Arshi and Priyank over former's 'provocative' dressing style. Arshi, who already faced a lot of flak in the task, decided to give back to Hina and Priyank for all the dirty words thrown at her.
Vikas Gupta alleged that his fellow Hina Khan made inappropriate comments on Arshi Khan's innerwear with Luv and Priyank. But Hina, taking her stand, denied all the allegations. She instead claimed that she was having a girl talk with Benafsha Soonawalla about what lingerie Arshi was wearing that day. The day was well remembered as Luv Tyagi was seen checking out on Arshi's innerwear, which infuriated the latter to a great extent. Hina's blatant lying in the cameras isn't a new thing on Bigg Boss 11. The former Yeh Rishta Kya Kehlata Hai's Akshara has reinstated her statement a number of times in the show. Earlier, she brazenly lied to Bigg Boss that she didn't apply makeup on Luv Tyagi's forehead but later her lies were dismantled by Arshi who wiped Luv's forehead with a makeup remover.
Twitter was quick to grasp Hina Khan's lies and was even quicker to react. In no time, the social media was full of hate comments about her saying that she's the biggest LIAR Bigg Boss could ever have. See how people have been reacting.
Guys "RT" dis as much as possible show how fake #Hina is to the world.
A big slap on Hina n her Blind fans #Biggboss11 #BB11 pic.twitter.com/nDRhkFlaa6

— Kovid Raj ⚡ (@KovidRaj5) November 22, 2017
This is the original incident Vikas Gupta was talking about last night. In the video, Hina Khan is discussing Arshi's lingerie not only with Benafsha but also with two men around.
2 mins of silence for Hina fans who are busy in trending Hina Stands for Right & in episode unki idol jhoot pe jhoot bolti jaa rahi hai😂
Poor Blind pigs😛#BB11 #BiggBoss11

— Bigg Boss Guru👁 (@_biggbossfc) November 22, 2017
#BiggBoss11: #HinaKhan Mam stop playing this sympathy card. Its getting too over bearing and disgusting. And yes you said its right GOD is watching. #ColorsTV #SalmanKhan #BB11 #BiggBoss #WeekendKaVaar

— salil arunkumar sand (@isalilsand) November 22, 2017
Vikas also brings up an issue of past where Zubair Khan abused Arshi in front of everyone. Hina Khan, who was his friend on the show, was accused of encouraging him. He also accused her of not helping Arshi when she needed her. She, on the other hand, when found the game slipping out of her hands, started to cry. The house then got converted into an absolute madhouse when Sapna Choudhary and Puneesh Sharma went at loggerheads with each other.
.@lostboy54 accuses @eyehinakhan of not taking a stand for Arshi Khan against Zubair Khan! Tune in at 10:30 PM! #BB11 #BBSneakPeek pic.twitter.com/ymhEBURTcc

— Bigg Boss (@BiggBoss) November 22, 2017
Hina Khan wins the case and Hiten is granted divorce with Arshi Khan.
Another highlight of the day was when Hina Khan second time sheds a tear on last night's episode. She cries in the bathroom because Shilpa Shinde didn't prepare an egg for her breakfast. But Twitter is not happy. In the episodes they saw earlier, Shilpa is always the one preparing meals for the housemates while Hina is seen planning and bitching about the rival team (Team Shilpa) in the show. According to viewers, it was totally unnecessary for Hina to cry a river for such a trivial matter. 
Shilpa cooking for the whole house while Hina is on bitching mode against Shilpa saying things about her Professional careers, age n educational background, Just becoz she knows she can't tackle her in d game so tackling her by bitching nonsense.#BiggBoss11

— ɢαjαl. (quarantined) (@Gajal_Dalmia) November 22, 2017
#Hina is a superwoman. She opens the bedroom door so that people listen and start a fight😑 She is friends with Akash whom she even refused to give food few weeks back..she is the Mother-India of two puppies😂😂😂the list is just endless😂😂😂 #BiggBoss11
HINA STANDS FOR RIGHT 🤕

— Cathyy (@cathys_26) November 22, 2017