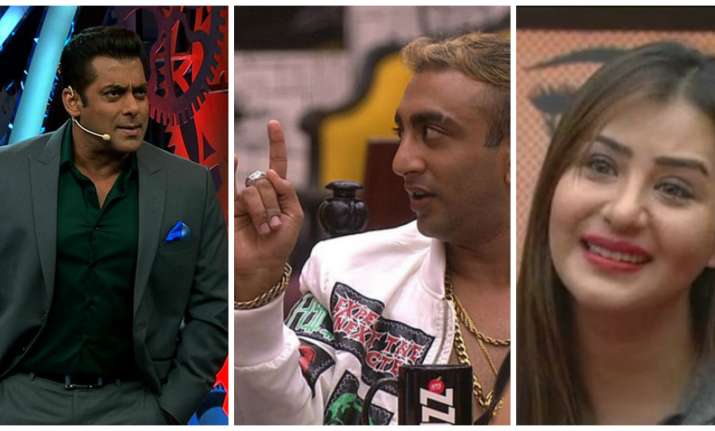 Bigg Boss fans eagerly wait for Saturday night to see superstar Salman Khan taking class of Bigg Boss contestants. The November 18 Weekend Ka Vaar too saw Salman bashing Akash and appreciating Shilpa and Arshi. The episode begins with Akash giving medicine to Shilpa which she angrily refuses to take. She even asks him to stay away from her. When Puneesh mocks Akash and Shilpa's fight, she tells him to back off. Puneesh further tries to justify that Akash is upset because he feels that he was used in the fight between her and Vikas. He goes on to taunt Shilpa for building a negative image of Akash.
Then comes Salman who brutally criticises Akash for calling the show scripted. The host asks him to unveil the secrets which he was claiming to disclose. The superstar also tells Akash that he is upset because after Shilpa and Vikas's friendship he is not getting any attention. So now, he is trying to provoke Shilpa. Salman appreciates Shilpa for caring for Akash and also Arshi for not getting provoked by Akash's rude behaviour.
Salman lashes out at Puneesh and Bandgi for inciting Akash against Shilpa. While Bandgi denies accusation, Puneesh just laughs off. The Dabangg star again showers praises on Shilpa and Arshi. Hiten tries to make Akash understand that everyone uses him but at the end he is answerable.
Salman introduces brother Arbaaz Khan and Sunny Leone. The duo was here to promote their movie Tera Intezaar. Sunny has soya sauce, chilli sauce, butter, etc and gives an interesting task to contestants. When Shilpa is asked who is the most boring contestant, she names Sapna. Sunny then asks her to apply chilly sauce on Sapna. Next is Vikas Gupta. Sunny asks him to name a person who needs to get sweeter, Vikas says Hina. He is asked to pour chocolate sauce on Hina. Arshi Khan names Hiten when asked who does the most buttering in the house. She then applies butter on Hiten with love. Hiten has to give banana peels to monkey of the house, he gives it to Akash. Hina is given eggs by Sunny which she breaks on Vikas' head.
Today, Deepika will promote her film Padmavati on Bigg Boss 11. In the preview, she was seen dancing on her song Ghoomar.
Stay tuned to this place for all latest updates on Bigg Boss 11.