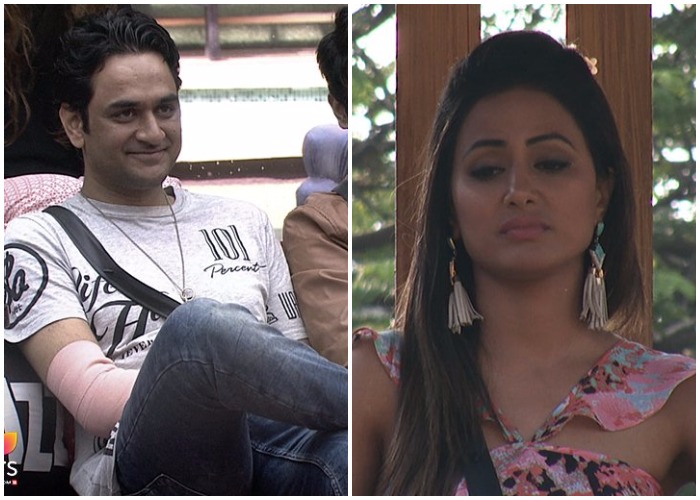 Every new day brings new twists and turns in the most controversial reality show Bigg Boss 11. On Wednesday, housemates woke up to the pool area transformed into a makeshift Jurassic Park. While they speculate what the next luxury budget task could be, few of the housemates started talking about Priyank Sharma and Benafsha Soonawalla's last night antics. What happened was, Ben slipped in the same with Priyank after the lights went off in November 15 episode. This sparked gossips around the house, leaving Vikas Gupta infuriated.
He walked straight up to Priyank and confronted about the previous night. He explained himself why it doesn't look good on national TV to share the bed with a woman, even if she's your best friend. He also said angrily, that everyone was gossiping about them but no one cared to wake him up. According to him, had he been woken up, he could've slapped Priyank straightaway.
Priyank agreed what he said and tried to explain these things to Benafsha. Hina also agreed to what Vikas said, which led to a mild argument between Ben and Hina.
Arshi and Benafsha had a short-lived argument. When Arshi was talking about Benafsha, Bandgi overheard it and spurted it out in front of Benafsha. Arshi got hurt by seeing Bandgi backstabbing her. Priyank tried to control Benafsha, defending Arshi. He said that Arshi didn't take her name while talking. Meanwhile, Benafsha was heard asking Bigg Boss if she can take her decision of getting nominated back. She regretted to have taken a stand for Priyank who is seemingly miffed by her behaviour.
Soon the Bigg Boss luxury budget task for the week was announced. Three contestants, Vikas Gupta, Luv Tyagi and Puneesh  Sharma have to dress up like dinosaurs and destroy the posters of the contestants they did not want to see as captains. The catch was that only one contestant can escape the cage at a time.
Luv was first to escape and he quickly broke Shilpa's photo. On the second round, all the three dinosaurs had an argument as to who will go first. Luv gets the chance again and he destroys Arshi's poster. Hina Khan is seen whispering instructions into Luv Tyagi's ears.
Three dinosaurs made plans as to who will go when and who all they want to save. Luv was indecisive as he wanted to save three contestants, namely Hiten Tejwani, Hina Khan and Priyank Sharma. But it wasn't possible as they had to choose only contender each. When it was Vikas's turns he overturned the game and eliminated Hina from captaincy. His decision threw the whole house in commotion. Fights started coming up, both inside the house and in the cage.
Sapna broke the rule of luxury budget task by breaking her poster herself. Bigg Boss warned the housemates and while Hiten refuted the housemates on the same, Sapna took it personally and started shouting on him.
In the meantime, Shilpa Shinde and Arshi Khan were seen having a conversation inside the bedroom. It was a rare moment as Arshi was having a meltdown due to Akash Dadlani's changed behaviour. Shilpa also breaks down seeing Arshi crying. In the recent episodes, Akash is seen taunting Shilpa for forgiving Vikas after all he did to her. Arshi pacified Shilpa saying that they both don't need anyone else in the house. They are enough for each other.
The time limit of luxury budget task finished for the day. Housemates go to bed and this time the cameras are focussed on Priyank and Benafsha. Just like the previous night, they were seen sharing the bed again.