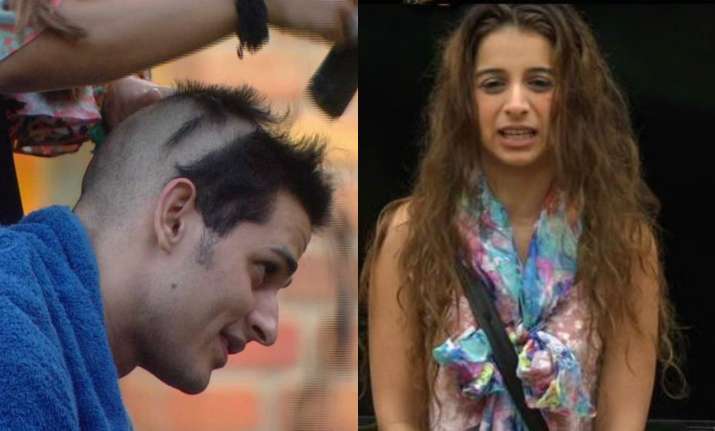 After the double eviction in November 12 Weekend Ka Vaar, the house gears up for the nomination process. The day starts with Hina Khan's advice to Benafsha to be careful with her relationship with Priyank as she has a boyfriend outside the house. Meanwhile, Luv and Priyank work out in the garden area. Things take an ugly turn when Priyank asks Benafsha to call Shilpa so that she can be the weight on his back while doing push ups. Priyank while clarifying or mocking (we can't say) went on to tell Shilpa that she is his mum's age. This makes Shilpa more furious.
The scene in the house take a weird turn when Vikas farts in the kitchen and Puneesh insists on talking about it. (Seriously!) Meanwhile Puneesh, Bandgi and Akash talk about Shilpa-Vikas's fake fight which makes Akash lose his cool. Then comes the nomination process. A watch tower is placed and when the phone rings, Hina rushes to receive the call and gets nominated. Bigg Boss asks Hina to convince Luv to get ZERO written on his forehead by Sapna to save her from nominations. Which he does. Similarly, Akash picks up the phone and he has to convince Hiten to shred his family photo. Akash too gets saved.
Priyank goes up and he has to convince Benafsha to nominate herself for three weeks. Ben does that even after Vikas and Priyank tell her not to do so. Hiten gets the task to convince Priyank to shave his head. Priyank agrees and goes bald. While Hina shaves his head, Arshi and Shilpa make fun of him. Vikas gets angry at Priyank for doing this for Hiten.
On the other hand, Akash plans to break Arshi and Vikas's friendship.When Shilpa goes up on the tower, she is informed that nominations are closed for the day but instead of telling truth, she plays a prank.
Stay tuned for all latest news of Bigg Boss 11