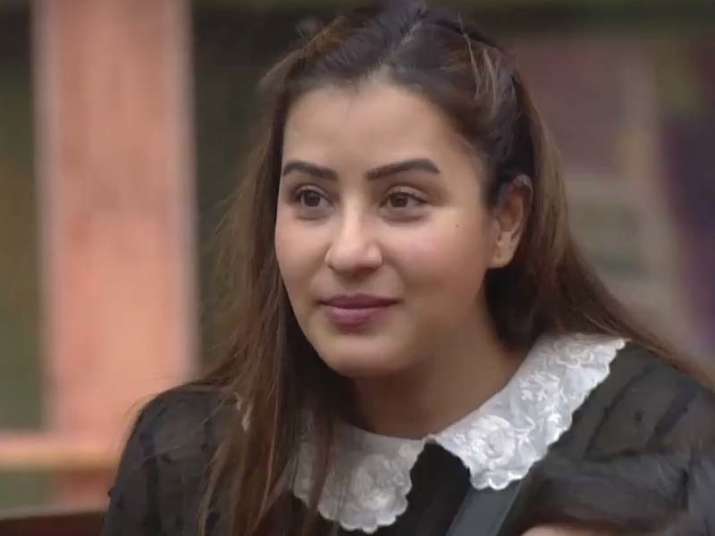 Bigg Boss 11 is nearing its finale and there have to be some shoutouts in the Bigg Boss house. This episode will see Arshi Khan re-enter the Bigg Boss house and play a fun challenge. But this fun task will turn into a major fight. Arshi will ask the contestants to be as mean as possible to each other.  In the task, every time the sound of laughter will echo, a new round will begin with a contestant image being put out.  Shilpa will pick Vikas Gupta's jackets and hoodies and threatens to destroy them completely.   
Arshi Khan has come to the #BB11 house to find the meanest housemate and award them a special power.https://t.co/u2Zs4nQjxl

— COLORS (@ColorsTV) January 9, 2018
.@eyehinakhan misses her friends, Luv Tyagi and @ipriyanksharmaa's presence in the #BB11 house. #BBUnseenAction pic.twitter.com/bzGHpXRJcb

— Bigg Boss (@BiggBoss) January 9, 2018
11:30 PM: Akash talks about Shilpa to Arshi and they cuddle up each other. Akash says that Shilpa thinks she runs the show and couldn't even do the task. 
11:24 PM: After Vikas's multiple requests, Shilpa decides to give up on the task. Vikas rejoices. Hina gets miffed up with the contestants' attitude towards the task and discusses this with Vikas. Vikas tells Hina that he lied to Shilpa about the hoodie being a gift. Shilpa says that she won't stop so low just for a task.  Shilpa and Puneesh say that Akash and Hina's picture belongs on the mean board. 
11:19 PM: The horn rings and this time Vikas becomes the target. While Shilpa asks Arshi she wants to destroy Vikas's five t-shirts by dipping them in the paint, Hina asks Arshi she wants to destroy Vikas's family photo. Arshi chooses Shilpa to become mean against Vikas. 
Arshi Khan approves Shilpa Shinde's mean idea to paint @lostboy54's t-shirts! Catch all the hungama on #BB11. pic.twitter.com/bNTpR0XIAv

— COLORS (@ColorsTV) January 9, 2018
11:14 PM: Arshi gives the chance to Puneesh but he decides to drop his plan. Arshi and Shilpa tries to solve their differences.  
11:10 PM: The task starts and its the time when all the contestants have to be mean towards Shilpa. Puneesh discusses with Arshi that he will spoil Shilpa's sleepers, Vikas says he will flush Shilpa's stool powder and Hina says she wants to destroy Shilpa's socks as she cannot live without them.
The housemates have to suggest the meanest things that they could do to Shilpa Shinde. Tune in to #BB11 for all the hungama! pic.twitter.com/V3XZm9V6Cu

— COLORS (@ColorsTV) January 9, 2018
Arshi Khan approves Puneesh Sharma's mean idea! Catch all the fun only on #BB11. pic.twitter.com/RbVhXThtYM

— COLORS (@ColorsTV) January 9, 2018
11:05 PM: Hina talks about Shilpa To Arshi and mocks Shilpa about how fake she is when she talks about cleanliness. Hina says Shilpa is over-confident and discusses Arshi about what Shilpa did to Akash when he went to hug her. Puneesh says Arshi is the best person Bigg Boss has chosen for the mean task. 
10:57 PM:  Akash and Vikas tell Arshi that Shilpa was talking a lot behind her back. Shilpa says that Akash won't leave Arshi now as he knows Shilpa would talk to her about Akash and Vikas. Shilpa and Puneesh come and talk to Arshi about Akash. Vikas hides his belongings. Puneesh says that Arshi is biased and she will make sure Akash or Vikas win this task.
10:50 PM: Hina asks Arshi to cook food for her and when Arshi agrees, Hina hugs her. Vikas then announces the task in which the contestants will have to be mean and please Arshi. The winner will get the chance to win prize money and currently, Akash is leading the task.
10:45 PM: Bigg boss calls everyone and gives them a task in which the contestants have to name the meanest contestant on the show. Then, the song rashqe qamar plays and Arshi Khan enters the show. She meets everyone and hugs them. Bigg Boss welcomes Arshi and tells the contestants that Arshi would be the conductor of the Mean task. 
Woah! Arshi Khan enters the #BB11 house once again. Tune in to #BB11 for all the entertainment. pic.twitter.com/2WLwoISMqM

— COLORS (@ColorsTV) January 9, 2018
10:43 PM: Vikas and Puneesh count votes they got in the mall task. Vikas finds out that Luv bluffed everyone by telling his vote count as 393. Though, it came out as 293. Vikas tells this to the remaining contestants. 
10:41 PM: Shilp warns Akash if he keeps on behaving like this, she will slap him on National TV. Puneesh discusses this with Vikas and says it will be quite shameful if Shilpa anyhow slaps Akash.
10:38 PM- Akash comes storming towards Shilpa to ask why did she talk in behind about him to Puneesh. Shilpa says Akash became famous because of her. 
10:35 PM- The contestants wake up to the song Chikni Chameli. Akash hugs Shilpa. Shilpa warns Puneesh to ask Akash to stay away from her. 
10:34 PM- Hina talks to Vikas and talks about Shilpa Shinde. Vikas being called a mastermind asks Hina if he or Shilpa does the tasks better. Hina then talks about herself and her performance in the tasks. 
10:30 PM- Shilpa and Akash get into a conversation and sort out the differences between both of them. Akash apologises to Shilpa and hugs her. 
Keep checking our Facebook page for all latest updates