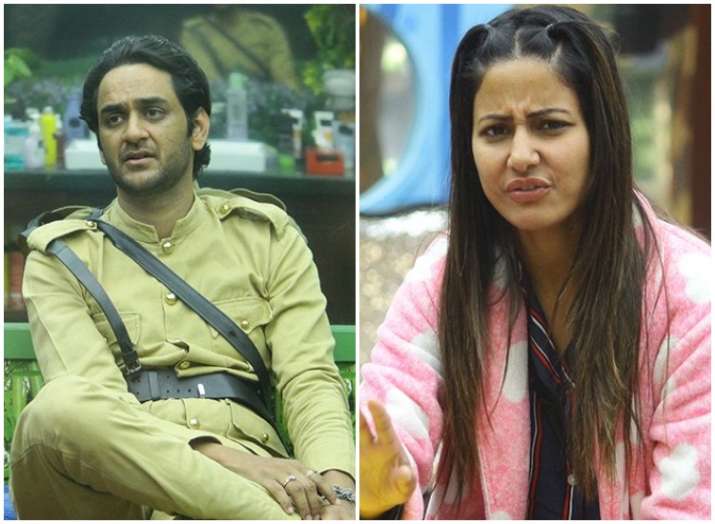 Hovering towards the grand finale, Bigg Boss is now in its super-ultimate stage with just four contestants - Shilpa Shinde, Vikas Gupta, Hina Khan and Puneesh Sharma - battling it out for the title of winner of Bigg Boss 11. In today's episode, you'll get to know that Hina Khan and Vikas Gupta can never be friends at least in this house. 
You'll see Vikas leaving no chance to provoke Hina to press the buzzer in the 'Vikas City' task. Going by the Bigg Boss' official Twitter page, today's episode will see 'dictator' Vikas giving harsh situations to Hina. On the other hand, during the task, Shilpa will brand Hina Khan as the ''nautanki queen''.
Let's check out how much drama and fun will this episode provide us. 
Prize money ke liye ek doosre se bhid gaye @eyehinakhan aur @lostboy54. Aakhir kaun jeetega 'Vikas City' ka task? Find out tonight at 10:30 PM on #BB11. #BBSneakPeek pic.twitter.com/6Yu7HW6NSK

— COLORS (@ColorsTV) January 12, 2018
Vikas City mein ho raha hai dher saara hungama! Kya dictator @lostboy54 jeet payenge ye task? Tune in to #BB11, tonight at 10:30 PM to find out. #BBSneakPeek pic.twitter.com/iJbgKM7XC4

— COLORS (@ColorsTV) January 12, 2018
11:30 PM: Shilpa becomes emotional while thinking of the last day of Bigg Boss 11. Vikas comes to Shilpa and talks about the journey. Hina sings songs like Hum rahe ya na rahe kal, ye galiyan ye chaubara and says she'll miss this house very much. Vikas, Puneesh and Shilpa hug each other. The day ends. 
11:20 PM: Hina cooks food for herself. Vikas tells Shilpa that Hina is trying to cook. When Vikas Gupta sees Hina Khan struggling with cooking, she tells Shilpa Shinde to look into it. Instead, she tells him that she has seen Hina Khan cooking with Arshi Khan. Vikas says that its surprising how Hina can roll round chapatis despite knowing how to cook. Bigg Boss announces that the task has ended now and Vikas has managed to win 6 lakhs. Bigg Boss also announces that Vikas City was the last task of this season. 
11:15 PM: Hina cries and says that Vikas made her cry on the last day of the show. She says that Vikas and Shilpa want to make her look bad. Puneesh says that Vikas has played a really bad game today. Puneesh says that Shilpa is heartless and he says that he got really tensed when Shilpa broke her cup. Puneesh and Hina talk about how Shilpa and Vikas have become best friends now.
11:10 PM: Hina Khan breaks down in the bathroom and says she just wants to save money for the winner. Shilpa calls Hina the biggest 'kaamchor'. Hina says on the last day of the Bigg Boss, Vikas is showing his real face.  Hina and Shilpa get into an argument. Vikas apologises to Shilpa as he didn't listen to her. Puneesh strongly condemns Vikas's orders and gets into an argument with Vikas and Shilpa. Hina breaks down while eating and thanks Puneesh for taking his side. 
11:05 PM: Vikas tells Bigg Boss that Hina is making silly excuses for every task and that unacceptable. Shilpa says Hina is the biggest 'nautanki queen'. Puneesh and Hina talk about Vikas that he is going too low for a task. Puneesh says that Vikas was wrong to bring his family photo to the task. He says that Vikas has won 6 lacs but lost the task. Hina asks Vikas that if there's anything left to do, please tell. Vikas says Hina 'you win, I lose'. Shilpa tells Puneesh, even if Vikas is called a mastermind, he is not doing anything wrong.    
10:55 PM: Vikas asks Hina to destroy Puneesh's bracelet, a pink pillow, a photo frame etc. Hina breaks the bracelet, it doesn't break. Vikas asks Hina to break the bracelet with a dumbbell. She tricks Vikas in breaking it. After getting fed up, Vikas asks Hina to put her feet on Vikas's mother's photo and crush it. Hina again tricks her.  
10:50 PM: Shilpa says that she doesn't like how Hina overacts and gets loud while reacting to things. She says that Hina knows how to cook but she lies about it so that she doesn't have to work. To irritate Hina more, Vikas asks her parents' coffee. makes Hina dump all of her coffee in water but she figures out that its not her coffee. Hina says that he won't let Vikas win as she knows that he wants to make her look bad.
10:45 PM: Vikas makes Hina and Shilpa wear blindfolds and asks them to talk good things about each other. Hina lists why she likes Shilpa and then talks about things she doesn't like about Shilpa. Hina says Shilpa looks very beautiful and good looks much beautiful without makeup. Vikas then asks Hina to tell 3 bad things. Hina says Shilpa puts mustard seeds in every dish which she doesn't like. Second, she says that Shilpa gets conscious when she wears western wear; thirdly, she will say that Shilpa badmouths people behind their back.
10:40 PM: The task starts. Vikas asks Shilpa to feed him papaya. Puneesh says Hina is trying to hard, Vikas says that is not allowed. Shilpa tells Vikas, at last, he got down on bringing her after you. Vikas asks Puneesh to bring the photo frame. Shilpa hits the buzzer. Vikas asks Puneesh to give his bracelet, he denies. Vikas goes to Hina and takes her SherKhan mug. 
10:35 PM: Hina says the camera is always on her when she is eating. Puneesh comes to Shilpa and says she can't bear Hina eating beside her because she makes a lot of noise while eating. Puneesh says Hina eats like a cow. Vikas tells Shilpa that he'll ask Hina to put her feet on Vikas's mom's photograph, citing that he is quite confident that Hina will deny doing this and press the buzzer.
10:30 PM: The Bigg Boss contestants wake up to the song 'Badshah Badshah' and dance it out. Vikas makes faces like a mastermind. Vikas talks to Shilpa and asks her that she will have to help Vikas in the task. Despite, pressing the buzzer, Vikas asks Shilpa to be in the game. Shilpa tells Vikas that Hina is making a fuss about her periods and it's a game plan in short. 
Check out our Facebook page for latest updates.