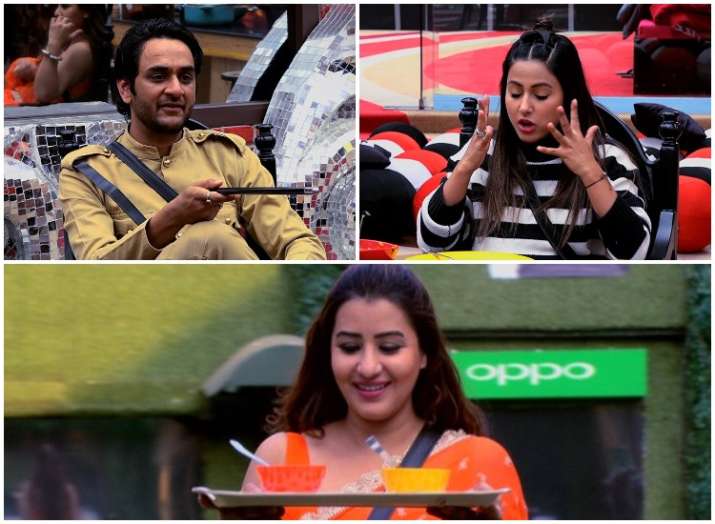 Post bidding adieu to Rapper Akash Dadlani yesterday, the Bigg Boss house is left with four contestants: Puneesh Sharma, Hina Khan, Vikas Gupta and Shilpa Shinde. In today's episode, we'll see Bigg Boss making Vikas Gupta the new dictator of the house, which in turn named as Vikas City. Vikas was made the dictator because he emerged victorious in the 'Arshi Chahti Hai' task and hence, gained a special advantage. 
Hina Khan, Shilpa Shinde and Puneesh Sharma will be ordered to follow the dictator's orders, failing which they must press a buzzer and opt out of the task. But, there's a catch. Bigg Boss will come up with a huge twist. Each contestant, who will opt out of the task, will give three lakhs from the winning amount to Vikas Gupta.
This episode will surely be power-packed with a lot of drama, with Vikas being the supreme dictator. Let's see who ends up being the Bagawat king or queen. 
.@lostboy54 gets a unique chance to win a cash prize by becoming the dictator of the #BB11 house. Catch this task, tonight at 10:30 PM on #BB11. #BBSneakPeek pic.twitter.com/V5oWlFtAOu

— COLORS (@ColorsTV) January 11, 2018
Vikas city mein @eyehinakhan ne khullam khulla ki bhagawat! Kya hoga dictator @lostboy54 ka reaction? Find out tonight at 10:30 PM on #BB11. #BBSneakPeek pic.twitter.com/zUytzhBHM0

— COLORS (@ColorsTV) January 11, 2018
Finale week mein ho rahi hai Shilpa Shinde aur @lostboy54 ke beech pyari si nokjhok! Catch all the fun, tonight at 10:30 PM on #BB11. #BBSneakPeek pic.twitter.com/OjVQqXp9uD

— COLORS (@ColorsTV) January 11, 2018
11:30 PM: Vikas Gupta brings water for Hina Khan and tries to pacify her. But the woman is not ready to listen to and tells Vikas to not be over sweet to her. Vikas says that he doesn't want to trouble her and tells her that he is only trying to help as she is not feeling well. Hina says that Vikas will win the task as he has more votes and got the task.
11:25 PM: Hina questions Vikas Gupta for making a fuss of her girl problem. Hina tells him to not say girl problem issue repeatedly. But Vikas tells him that why were you behaving that way. "How can you talk about your ill health and girl manner. How can you use this as a shield in the game," Hina Khan tells Vikas Gupta.  
11:20 PM: Hina Khan talk to Vikas Gupta after the task is over. On the other hand, Puneesh Sharma and Shilpa Shinde also discuss Hina's attitude. Hina argues with Vikas even more and refuses to reason with him. Puneesh says that Hina is really a Mohalle Ki Aunty. Shilpa says that Hina would have had to cook and hence she faked her illness. 
11:15 PM: While Vikas talks to Shilpa and Puneesh, Hina Khan budges in and gets into an argument. Hina gets mad at Puneesh because he told on her to Vikas. Hina says that her intentions were not to make Vikas look bad. Vikas screams at Hina and tells her to get lost. Shilpa says that Hina has an inferiority complex now since Vikas got the special task. Puneesh tells Vikas that he wouldn't like to talk to Hina after getting out of the house. Bigg Boss tells them that the task is over for the day. Vikas come to talk to Hina and asks her to come and sit out with them.
11:10 PM: Vikas and Hina come face to face in the confession room. Vikas alleges Hina that she wants him to play dirty as Vikas knows Hina Khan very well. Hina tells Vikas that she was just pulling his leg but Vikas become adamant on his warning to leave the task. Vikas and Hina come out. Hina again tells Vikas to be in the game but Vikas stays with his say that Hina wants him to play dirty, anyway. Shilpa suggests Vikas to ask Hina to throw her make up in the pool but he denies. Hina, for the last time, asks Vikas to stay in the game but Vikas denies to play with Hina Khan. Hina brands Vikas as a quitter and a loser.
11:05 PM:  Hina sits alone in the bedroom an says that Vikas is a bad person. Shilpa tells Vikas that Hina is saying that Vikas is looking bad to the audience. Vikas says she is playing a great game from the beginning. Puneesh compares Hina with Bigg Boss 9 winner, Gautam Gulati in terms of cleverness. While Shilpa gets into the Bhabhiji character, Vikas and Puneesh have fun with her by praising her beauty. Hina talks about Vikas that he is losing out on this task, anyway.
11:00 PM: Vikas asks Shilpa to bring the Rabdi and tells her to feed him from her own hands with love. Shilpa asks him if she should show her some love, to which Vikas says no. "You love can be very wild," he adds. Vikas-Shilpa indulges in a cute conversation and looks great in the cute 'nok-jhok'. Puneesh says that he will leave the lovers alone now. 
10:50 PM: Vikas Gupta asks Hina Khan and Shilpa Shinde to wear a saree. Hina Khan refuses, while Shilpa Shinde finds a beautiful orange saree. She enters the kitchen to cook basundi. She playfully calls them 'ayyash log'. While she cooks in the kitchen, she shows us a glimpse of her former character 'Bhabhiji'. Vikas orders to not to speak a word and after repeatedly being poked by Hina, he warns to leave the task midway. Hina says sorry to Vikas; he warns her for the last time. Vikas brands Hina as the biggest lier and asks her to press the buzzer. Hina succeeds in agitating Vikas. Vikas ends up pressing Hina's buzzer.
10:45 PM: Vikas Gupta asks Hina and Shilpa to act as sisters. He makes them hug and kiss each other. They have to do this every ten minutes. Hina runs to Shilpa calling her Didi and hugs her again.Hina Khan tells Vikas Gupta that she has received her periods and she would not be able to actively participate in the game. Vikas senses foul play and asks her to show her clothes. They get into an argument. 
10:40 PM: Dictator Vikas comes in and orders all the contestants to play the buzzer; the contestants deny. Vikas then asks Hina to pack all his clothes in a suitcase and orders Puneesh to bald. Puneesh goes berserk after hearing this and denies doing this. Subsequently, Vikas orders Shilpa to make Basundi for him. Puneesh brands Vikas as a greedy fellow and ends up pressing the buzzer. 
10:35 PM: Hina reads out the letter sent by Bigg Boss in which she announces a task named 'Vikas City' in which Vikas has to play a supreme dictator. The remaining contestants will have to follow the dictator's orders. The twist is that each contestant, who will opt out of the task, will give three lakhs from the winning amount to Vikas Gupta. Vikas will win nine lacs and the money will be deducted from the prize money. Hina, Puneesh and Shilpa discuss about the task and come to the conclusion that this task will bring out Vikas's mean side. 
10:30 PM: The Bigg Boss folks wake up to the song 'Gupt Gupt' and dance it out. Hina shows some of her break dance skills. Vikas talks to Shilpa and Puneesh about the game plan that went on in the whole season by all the contestants. 
Keep checking our Facebook page for all latest updates