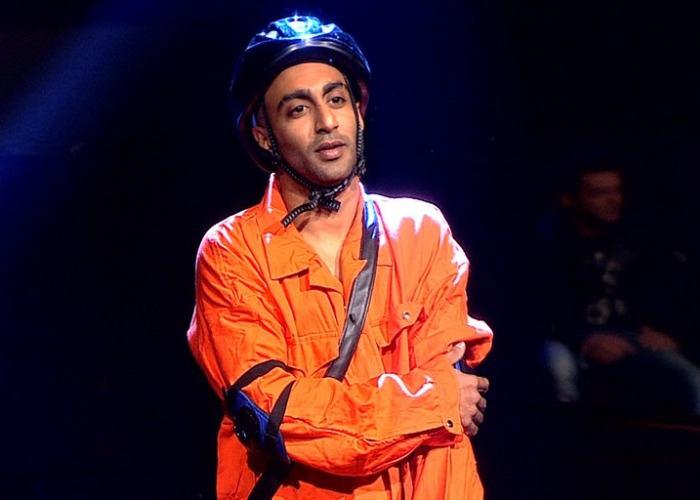 The Bigg Boss house saw it all. Friendships, love, romance, fallouts, animosity and what not. Now, evicted contestant Arshi Khan is inside the Bigg Boss 11 house to bring the meanness of the housemates in front of the audience. In the ongoing task, the housemates have to do the 'meanest' things to their inmates in order to win the task. The meanest contestant will win the task. Yesterday, Shilpa Shinde destroyed Vikas Gupta's t-shirts and jackets in oil paint. Today, Hina Khan, Akash Dadlani and Puneesh Sharma will find out how mean their fellow contestants can be.
Earlier, Shilpa Shinde was accused of never taking part in any of the tasks. Now she's going to prove her mettle in this task. Despite Hina Khan's pleading, she will smash her 'Sherr Khan' mug which was gifted to her by boyfriend Rocky Jaiswal. This will reduce Hina Khan to tears. Tonight, Bigg Boss is also going to be evicted in a surprise mid-week eviction. Who among Hina Khan, Shilpa Shinde, Akash Dadlani, Puneesh Sharma and Vikas Gupta will leave the house today?
Housemates wake up to peppy track Halkat Jawani tonight! Akash Khan discusses about Shilpa Shinde's allegations on him. He asks Arshi to convey his message to Shilpa. He admits that he finds her beautiful, but he respects the age difference between them. He clarifies to Arshi that he never intended to touch Shilpa with wrong intentions. 
On the other hand, Puneesh and Shilpa discuss about Arshi Khan and Akash Dadlani's closeness in the house. 
Arshi Khan discusses the issue with Shilpa Shinde. She is very angry at Akash Dadlani getting over cosy with her. Puneesh tries to make Akash understand that he's committing a mistake getting close to Shilpa. Akash Dadlani is the most discussed housemate in the Bigg Boss house right now. 
Vikas Gupta talks about Shilpa Shinde revealing about AkashDadlani's touch in front of media. He's not happy with Shilpa hitting at Akash's butt again and again. 
Vikas Gupta talks to Hina Khan how Shilpa and Arshi are making Akash Dadlani the villain of the house. Hina Khan is hurt by Shilpa Shinde's '15 years' comment. She believes that the number of years doesn't matter. Vikas speaks about the Bhabhi Ji Ghar Par Hain fiasco and how Shilpa Shinde framed him in front of the world. On the other hand, Akash and Shilpa try to talk their differences off. 
It's time for housemates to get mean to Akash Dadlani. Hina Khan wants to destroy his artificial gold chain. Vikas wants to destroy his shoes and paint his bald head BLACK! Puneesh Sharma wants to destroy A-cash's towel. Akash Dadlani is crying even before the task starts. Arshi Khan selects Vikas Gupta to perform the task. 
Bigg Boss stops Vikas Gupta to use paint on his head. He instead uses slime on A-cash who takes the task as a sport. Now its housemates turn to be mean towards Hina Khan. Akash Dadlani suggests destroying Hina's heating pad. Puneesh Sharma wants to destroy two of her nightsuits. Since her wardrobe is sponsored, so the loss would be big! Shilpa wants to destruct Hina's Sherr Khan cup. Vikas wants to destroy her blue bathrobe. 
Arshi Khan chooses Shilpa Shinde for performing the task. 
Ouch! Shilpa Shinde broke Hina Khan's cup! The actress is in tears as the cup was a gift from Rocky Jaiswal. But Shilpa is very happy to show how mean she was in the task. Shilpa and Hina are at loggerheads, while Vikas tries to pacify them. Shilpa is a changed woman now! She's not the same 'Devi' who used to sacrifice everything for her inmates. She is unapologetic! 
It's time to be mean for Puneesh. Hina Khan wants to destroy the jacket given to him by Bandgi Kalra while Vikas wants to wax his whole body. Shilpa plans to destroy his red shoes. Akash is after Puneesh's bathrobe. Arshi Khan chooses Vikas Gupta to proceed with the task. Puneesh gets his legs waxed. This reminds us of the BB Lilliput vs Daanav task in which they waxed Hiten Tejwani's legs. 
Vikas Gupta wins the Arshi Chahti Hain task! 
Bigg Boss calls the housemates in the garden area. Akash Dadlani apologises to the housemates for being mean to them. Puneesh also shares some last words with housemates. It's among Akash Dadlani and Puneesh Sharma who has to leave the house. 
Akash Dadlani's journey in Bigg Boss 11 ends here!