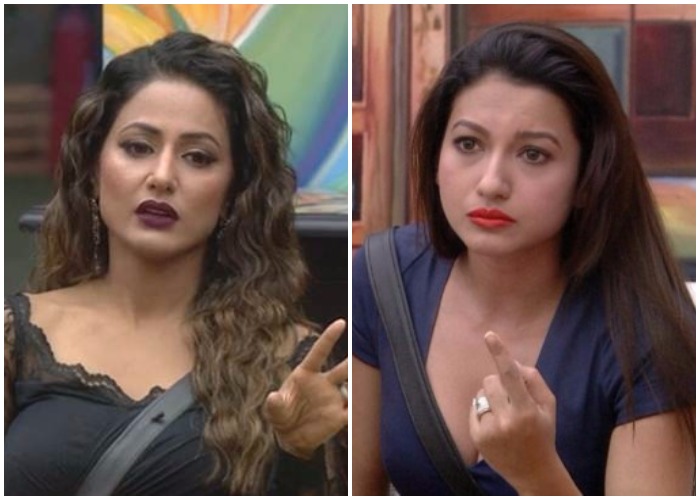 Hina Khan never spares an opportunity to give her haters another reason to lash out at her. The former- Yeh Rishta Kya Kehlata Hai actress has already garnered animosity for her antics in the house. And now, she seems to be willing to lock horns with some of the big names television industry. In an unseen video posted by Voot, Hina Khan, along with her new comrade Arshi Khan, is seen bitching about ex-Bigg Boss winner Gauhar Khan and popular television celebrity Sakshi Tanwar. Here's how Arshi and Hina's conversation sounded like.
"Aao Behen Chugli Karein"

This one is SPECIALLY for@GAUAHAR_KHAN #SakshiTanwar @iamsanjeeda
Praised By Ms Perfect @eyehinakhan
She is a REAL Friend & Colleague#BB11 Watch Share pic.twitter.com/WpLd63VIum

— HerdHUSH (@HerdHUSH) November 29, 2017
Arshi Khan: Bani J ke toh bohot kam followers hain. (Bani J has very few followers on Twitter.)
Vikas Gupta: Millions me hain uske followers. (She has million followers on Twitter.)
Hina Khan: Gauhar ke followers bohot kam hain. Mere aadhe ka aadha bhi nahi uske. (She doesn't even have half my followers)
Vikas Gupta: Toh woh active nahi hogi na. (she must not be active) 
Hina Khan: Active to main bhi nahi hu. Gauhar ke I think 2-3 lakh followers hain. (Even I'm not active. But Gauhar has only 2-3 lac followers) 
Hina Khan: Mere ek video pe not less than 80,000 comments hote hain. (A single video of mine has more than 80k comments) 
In the video, Hina Khan is also heard discussing Bollywood actress Sunny Leone's followers. She's saying that if one has paid followers on their account, the views on their videos are less. She then exemplifies Sunny's Twitter account for it.         
In the video, Hina is discussing TV actress Sakshi Tanwar with Arshi Khan. She's saying that Sakshi is a bit 'cross-eyed'. She also talks about TV actress Sanjeeda Shaikh.
Well, we had a look at Hina Khan and Gauhar Khan's Twitter followers. And on any day, Gauhar Khan is the clear winner in terms of followers. Gauhar has 2.17 million while Hina is having 1,24,000 followers on Twitter. Talking about Instagram, Gauhar has 1.6 million followers while Hina is leading at 1.7 million.
It seems like Bigg Boss contestant Hina Khan is living in a bubble or its some different Twitter that she follows. Maybe, she'll have a clearer vision as she comes out of the house.
Gauhar Khan, after seeing the video, didn't sit quietly on this. She has been slamming Hina Khan on social media for various issues. First time it was when Hina shamed Shilpa Shinde's English in initial episodes. The second time it was when Miss Khan made an objectionable comment on Arshi Khan's clothes.
Acchaii aur tameez toh seekhi nahi, math karna seekha hota toh aaj jhoote ghamand me aake kahi gayi baat pe log itna haste nahi..Lol!!! Allah sabko tarakki de.... Ameen!! Ghamand be aaj tak kisi ka kuch bhalaa nahi kiya.. sakshi tanwar u are beautiful
Acchaii aur tameez toh seekhi nahi, math karna seekha hota toh aaj jhoote ghamand me aake kahi gayi baat pe log itna haste nahi..Lol!!! Allah sabko tarakki de.... Ameen!! Ghamand be aaj tak kisi ka kuch bhalaa nahi kiya.. sakshi tanwar u are beautiful💛

— Gauahar Khan (@GAUAHAR_KHAN) November 29, 2017