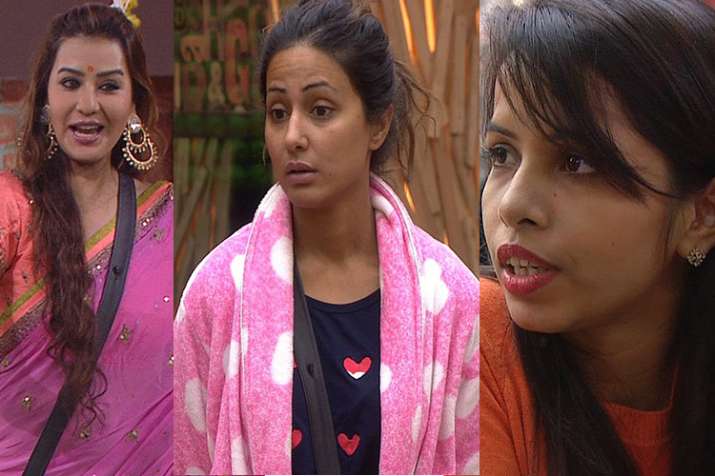 Bigg Boss 11 has become talk of the town and the show is getting more popular after internet sensation Dhinchak Pooja entered as the wild card contestant. If you are an ardent fan of the show, then you would have witnessed Pooja's Dhinchak entry in the house with her song 'Selfie Maine Le Li Aaj' playing in the background. Some of the contestants like Hina Khan and Shilpa Shinde were seen making fun of the internet sensation and this has irked many on social media.
The beloved bahus of small screen faced backlash on the internet where people stated that though Dhinchak's songs are not good but this doesn't give the ladies a right to insult Pooja.
One of the tweet says, "#HinaKhan you have forgotten your manner's don't think your gaining popularity by making fun of #DhinchakPooja she has more fan following."
Another tweet reads, "Troll for her unbearable songs But don't make fun of her #DhinchakPooja #HinaKhan not even said hii Very bad behaviour of #ShilpaShinde."
Dear @eyehinakhan where was your girl power when you were making fun of #DhinchakPooja? You are so fake Hina.#BB11

— Antra (@I_Wonderstruck) October 23, 2017
Shilpa-Hina's reaction to #DhinchakPooja proved what kind of bitter personalities they are. Always on high horse. #BB11

— Wanderer (@DisDatNothin) October 22, 2017
These tweets prove that Twitterati are in support of Dhinchak Pooja.
In the last episode, Shilpa and Hina were seen discussing and making fun of Pooja's head lice. It seems that the entry of the internet sensation is not going down well with the bahus of small screen.
It is yet to be seen if Pooja manages to win hearts of the contestants in the coming episode.