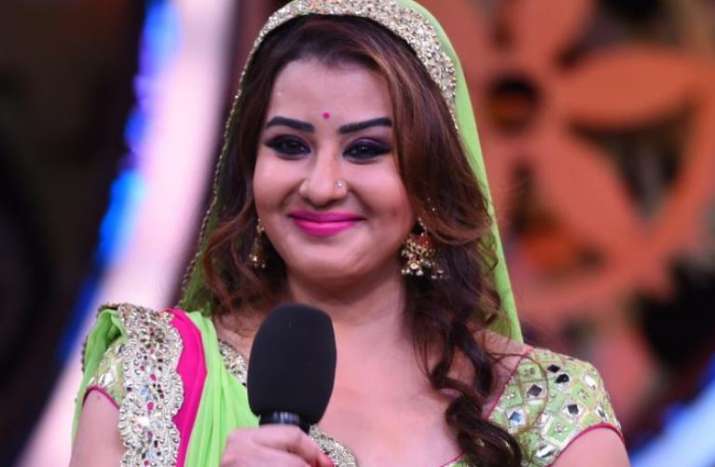 Television actress Shilpa Shinde beat Hina Khan to win Bigg Boss Season 11. The most controversial reality show on TV, Bigg Boss, concluded its 11th season with the grand finale that was filled with entertainment and 'masti'. Like previous years, Bigg Boss has revealed some unseen facades of our favourite celebrities including Shilpa Shinde, Hina Khan, Vikas Gupta, Hiten Tejwani, Arshi Khan, et al. This year also, the show saw an amalgamation of celebrities and commoners. Throughout the course of the show, TV's ex-bhabi ji Shilpa Shinde remained the favourite of netizens. Not once but multiple times, she made it to the top trends on social media, which also justifies her win.
In Bigg Boss 11 Grand Finale, it was not just about the winner of this season. All the evicted contestants including Priyank Sharma, Hiten Tejwani, Bandgi Kalra, Luv Tyagi and Benafsha Soonawalla came under one roof to give their last performance on the show. Hina Khan shared stage with her buddies Priyank and Luv while Shilpa Shinde performed with her co-finalist Vikas Gupta on 'Main Naagin Tu Sapera'. PadMan actor Akshay Kumar also graced the night, promoting his upcoming film. 
​Highlights of Bigg Boss 11 Grand Finale: 
11:38 pm: Shilpa Shinde is declared the winner of Bigg Boss 11.
11:23 pm: 
Bigg Boss season 11 mein Shilpa Shinde and @eyehinakhan ne bajaaye sab logo ke barah! Ab kaun banega iss season ka winner? Find out in the #BB11Finale.

— COLORS (@ColorsTV) January 14, 2018
11:19 pm: Shilpa Shinde and Hina Khan switch off the lights of Bigg Boss 11 house for one last time. What an emotional moment! 
Finalists @eyehinakhan and Shilpa Shinde get emotional during their last few moments in the #BB11 house. Which one of them will walk away with the title? #BB11Finale pic.twitter.com/oq7LuHiGbx

— COLORS (@ColorsTV) January 14, 2018
11:14 pm: Shilpa Shinde vs Hina Khan; Live voting starts now! 
Television's two most popular actors face off in the grand #BB11Finale. Tune in to find out who will win.

— COLORS (@ColorsTV) January 14, 2018
11:11 pm: Hina Khan gives a breath-taking performance on the song 'Main Heroine Hu' 
Heroine @eyehinakhan performs with her two anmol ratan, Luv Tyagi and @ipriyanksharmaa. Catch it only on the #BB11Finale. pic.twitter.com/ayKA8e9dJ9

— COLORS (@ColorsTV) January 14, 2018
11:04 pm: Vikas Gupta is out of Top 2 race, becomes the second runner-up of the show. 
.@eyehinakhan is the first contestant to make it to the top 2. #BB11Finale

— COLORS (@ColorsTV) January 14, 2018
10:46 pm: Shilpa Shinde and Vikas Gupta perform on 'Main Teri Dushman'. 
Shilpa Shinde and @lostboy54 ki khatti-meethi kahaani ko ek naye musical andaaz mein dekhiye only on the #BB11Finale. pic.twitter.com/xwf6OSssjh

— COLORS (@ColorsTV) January 14, 2018
Akshay Kumar enters the house to escort one finalist out of the house! Who he/she might be? He introduces an innovative way to evict a finalist. 
10:40 pm: Akshay educates audience on menstrual hygiene and talk about lack of awareness regarding it. The reel-life PadMan also informs viewers on real-life PadMan, Arunachalam Muruganantham. Akshay and Salman then make a sanitary napkin on the stage with the help of machine manufactured by Muruganantham.
10:37 pm: Akash Dadlani comes on stage and wears shorts over his trousers. Sapna Choudhary dances on the title track of Mujhse Shaadi Karogi along with Salman and Akshay.
10:30 pm: PadMan Akshay Kumar arrives on bicycle and joins Salman in pulling contestants' legs. Akki, Dhinchak Pooja and Salman take a ride on scooter, while the cringe pop star sings 'Dilon Ka Shooter Hai Mera Scooter'. Dhinchak Pooja sings some of her songs- Bewafah Hai and Selfie Maine Le Li Yaar. Salman and Akshay sing 'Selfie Maine Le Li Yaar' and it is really a fun to watch both the superstars in such an avatar.
10:24 pm: Lead actors of 'Belan Wali Bahu' enter the house and play a fun task with three finalists. The lead jodi then joins Salman on the stage and the host wish them 'All the best'.
10:19 pm: Salman then introduces 'Pungi',i.e., Puneesh and Bandagi. The lovebirds give a sensuous performance on 'Tip Tip Barsa Pani'. Then comes our 'Laila' Arshi who shake a leg with Hiten Tejwani on 'Laila Teri'.
10:17 pm: Host Salman Khan talks about emotions that were witnessed the most inside the house. While talking about the 'nok-jhonk', Salman says how one can forget crackling chemistry between Hiten Tejwani and Arshi Khan. Both the evicted contestants pull each other's leg with one liners and shayaris.
09:57 pm:  Akshay Kumar will go inside the house to bring one contestant out of the house. Who will be the next after Puneesh Sharma? 
09:52 pm: Salman Khan announces the official date of Sanjay Leela Bhansali's Padmaavat. 
09:48 pm: Family of the evicted contestant can go inside the house and bring their loved one out. Who's going to be evicted of the Finale race? Hina Khan is ready to go, if she gets the chance to meet BF Rocky Jaiswal. 
What a clever way to announce eviction! 
Puneesh Sharma is out of Top 2 race as his mother is there inside the house to fetch him! 
Puneesh Sharma's family enters to escort him out as he got the least number of votes. Did you see that coming? #BB11Finale

— COLORS (@ColorsTV) January 14, 2018
09:42 pm: Salman Khan asks Vikas Gupta who should go first. Vikas feels Puneesh should go first while Shilpa wants Hina Khan to go! Hina Khan also wants Puneesh to go. 
WHAT'S INSIDE THAT GREY BRIEFCASE? 
09:35 pm: Dhinchak Pooja calls Arshi Khan a bewafa while Priyank Sharma chooses Vikas over Hina. Luv Tyagi thinks Shilpa Shinde is going to win. 
A-Cash's cringe-worthy performance begins! As Salman Khan says he has poked holes in people's ears in the house! 
09:30 pm:  Vikas Gupta opens his heart about Shilpa Shinde. He believes now she has become more vocal about her feelings. 
The finalists share their emotional experiences of participating in #BB11. Don't miss their stories only on the #BB11Finale. pic.twitter.com/B0yLyC3XOA

— COLORS (@ColorsTV) January 14, 2018
Hina Khan sings ''Yunhi Kat Jayega Safar' melodiously, while Vikas Gupta joins her. Shilpa Shinde sings a lullabuy in Marathi. 
09:25 pm: Salman Khan pulls the leg of Vikas Gupta. He also calls this season as the most 'successful' season in the history. He talks about how Shilpa Shinde was banned from the television industry. He also takes a dig at Vikas Gupta. FYI, Shilpa Shinde will do a web series with Vikas Gupta after Bigg Boss 11. Shilpa's mother and brother are also present among the audience. 
09:20 pm:  It's an emotional moment for the Bigg Boss 11 contestants. Truly, the house will be empty without the contestants. 
09:15 pm:  Hiten Tejwani says Shilpa Shinde betrayed him. He also indirectly calls her 'flip'. Salman Khan pulls the legs of Arshi Khan and Hiten Tejwani. It's good to see all the contestants once again under the same roof. Host Salman Khan also addresses Luv Tyagi for miscalculating his votes. 
09:10 pm: Yay! There's going to be LIVE voting to decide the Bigg Boss 11 winner this time. Keep your smartphones ready for live voting. 
Salman Khan mocks Akash Dadlani for declaring himself the 'winner' of the show. 105 minutes left to declare the winner! *Fingers crossed*
09:00 pm:  Host Salman Khan makes a power-packed entry on the stage, recreating the Tiger Zinda Hai magic! He's performing on his chartbuster track Swag Se Swagat. He welcomes the finalist Hina Khan, Shilpa Shinde, Vikas Gupta and Puneesh Sharma in SWAG! 
Swag se Swagat kijiye top 4 finalists aur @BeingSalmanKhan ka on the #BB11Finale. pic.twitter.com/KM7iQ9nfmQ

— COLORS (@ColorsTV) January 14, 2018