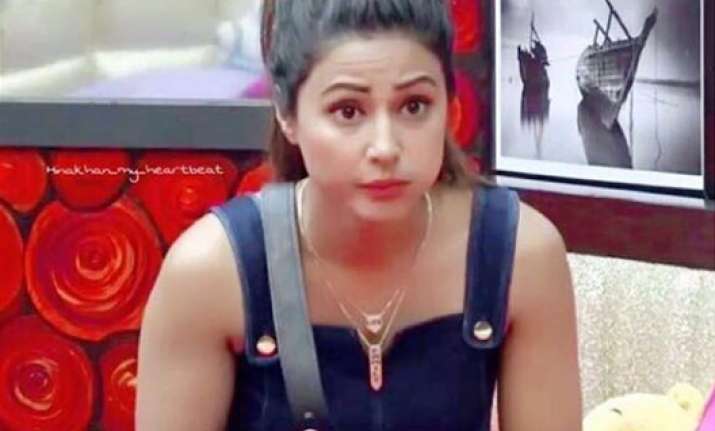 Hina along with other Bigg Boss 11 contestants Priyank Sharma and Sapna Choudhary was in the nomination list, but luckily got saved due to her immense fan following. The favourite bahu of TV Hina aka Akshara has also received criticism of fans due to her controversial statements and heated arguments with few of the Bigg Boss 11 contestants including Shilpa Shinde and Arshi Khan. 
During the Weekend Ka Vaar episode, Salman also slammed Hina for supporting Priyank while he was body-shaming Shilpa. 
And now a video of Hina has surfaced on online platform after which fans are badly criticising her. The video was shared by TV star Karan Patel which clearly shows that how Hina has time and again body-shamed Shilpa on the show. She not only called her fat, but a useless lady. Hina also challenged Shilpa to first achieve the stardom, which she has got.  
Ok guys get ready to troll me on this but this was important to share. Someone made this edit and im jus putting it forth for everyone to see. #ReadyForYourFrustratedReplies 😂😂 https://t.co/NAuelbv5Wq

— Karan Patel (@TheKaranPatel) November 26, 2017
Meanwhile, Hina alleged boyfriend Rocky Jaiswal supporting her recently wrote on his Instagram, ''I miss her and Of course it's difficult to see her going through such heart wrenching moments but that's what makes her a human being. @realhinakhanbeing what she is never said that someone else is jealous of her or insecure because of her popularity, even when she was showered abuses and cornered she fought back but never abused. She never tried to escape the house. She doesn't let go any tasks n gives her best which usually becomes the top standard in the house. She never shy's away from standing for what's right just because she's a celeb or is a target. Some #hinahaters r supporting insane people, actors who were banned by their own association, people who want to strip on YouTube if Pakistan wins, people who r getting physical n acting to be in a relationship just to stay longer. HOW? HOW can u be so blind? Last year commoners were actually entertaining but this year it's pathetic! If u like Cringe so much , so be it! But don't throw shit to genuine people. At least keep a difference between the inhuman people inside who represent us commoners and outside. She's so strong that the ones chanting her name with abuses n filth will not even be seen if they don't do it ! Just imagine these psychos if they do not have someone as strong as Hina to fight with, right u can't even imagine them coz they will be invisible. N btw even if they all stay inside the #Bigboss11 house for 5 years consecutively they will not be able to match the 'Footage' Hina has already gotten, she doesn't need it but can't say the same for you'll! We will not stand down! We will always be with Hina! She's not perfect but whatever She Is, it's the best the house has Got! #hinahaters Now do what u always do n try to catch up coz ur way behind the truth.'' 
What u see here are #Facts and are not #Disrespect to Anyone. And for those over educated illetrates, what u see here is called #TheTruth and #NotTrolling so just because u dont have a strong comeback dont make it an issue about Respect. ... https://t.co/WgsVNDP8eT

— Karan Patel (@TheKaranPatel) November 26, 2017