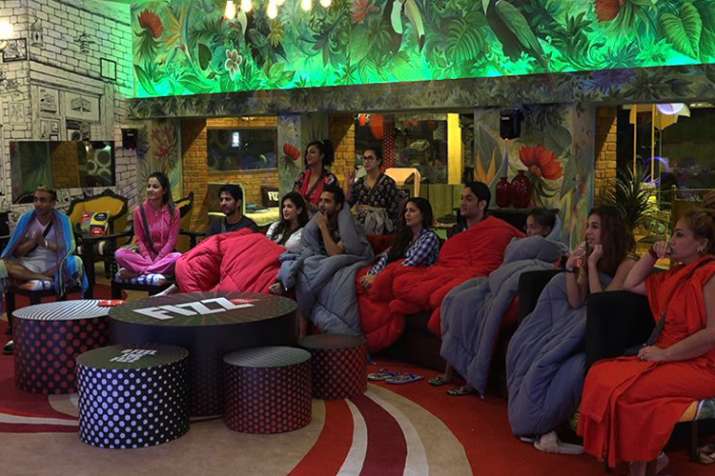 With fights, controversies and rule breakers in the latest season, Bigg Boss 11 has become one of the popular shows of the small screen. The latest episode began with Bandgi Kalra and Puneesh Sharma love talks. It seems that the show is soon going to have a love angle. The fight between Shilpa Shinde and Vikas Gupta is getting fiercer day by day. The lady was seen poking Vikas, who lost his cool and involved in a verbal spat with her. Arshi Khan and Sshivani Durga feel that Shilpa was leaving no stone unturned to make Vikas's life horrible in the house.
Vikas, who was not in a good mood also fought with Hina Khan over Priyank Sharma. He felt that Hina should not have reconciled with Arshi. In the rage of anger, Vikas threw egg on the floor and refused to clear it. Shilpa asked him to clean otherwise he would be sent to jail. Later Vikas did it.
Nomination process
In this week's nomination process, Bigg Boss asked housemates to take votes from their fellow contestants, those with the least votes will be nominated. Everybody tried hard but at the end, Hina, Vikas, Sapna Choudhary and Sshivani were in the danger zone. Padosis, who have finally entered the house nominated Jyoti.
At the end, Hina, Vikas, Sapna and Sshivani and Hina were nominated.
Padosis in Bigg Boss house
Bigg Boss introduced padosis, telling contestants that they are family. Luv Tyagi, Mehjabi Siddiqui, Sabyasachi Satapathy and Lucinda Nicholas have to look convincing in their act as a family. If they manage to do so they won't be nominated.
Housemates have given warm welcome to everyone. Now, it is yet to be seen what the upcoming episodes have in store for the contestants.
In Weekend Ka Vaar episode, contestants faced the anger of host Salman Khan, who grilled Zubair Khan for using foul language on the show. Priyank Sharma, who involved in a physical tussle was ousted from the show. Later, Zubair got less votes and was evicted.