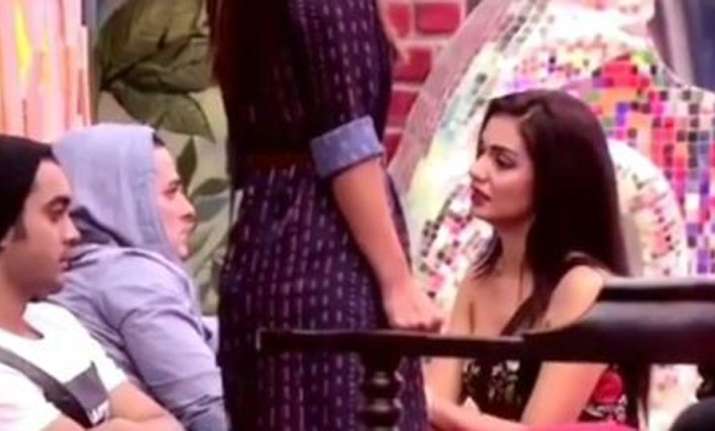 The yesterday episode of the controversial reality show Bigg Boss 11 ended on a sour note, as another friendly bond in the house bites the dust. On the second day of the captaincy task, Hina Khan got miffed with Hiten Tejwani for supporting Vikas Gupta. She called Hiten "spineless" for not favouring her and her team and for not taking any stand in the game. This also irked Hiten, who told her that he is supporting Vikas for being his friends. The BB Day Care captaincy task was all about fun and drama as Arshi Khan emerged as the new captain of the house.
However, tonight's Bigg Boss 11 promises a few really emotional moments. The contestants will welcome their friends and family in the house who will visit as a part of the new 'Statue' task.
.@lostboy54 is overwhelmed with his mother's visit to the #BB11 house! Tune in tonight at 10:30 PM! #BBSneakPeek pic.twitter.com/P6RDI5HG6F

— COLORS (@ColorsTV) December 7, 2017
Here are the LIVE Updates of Bigg Boss 11 episode 67 December 7 episode
11:30 pm: Puneesh blames Priyank for being guilty and even though he was running after Divya. Puneesh tells her that coffee and muesli are not important, he should have risked getting the luxury budget task cancelled.
11:25 pm: Priyank Sharma gets emotional and cries after Divya Agarwal leaves. The housemates are unable to figure out who she was.whether she was Priyank's 'US-wali' girlfriend or 'Roadies' one.
11:21 pm: Priyank's girlfriend Divya Agarwal enters the house and breaks down on seeing him. She tells her that he has done several wrong things to many girls and, also advises that he can win the show alone without the help of his group (Hina and Luv).  Divya also breaks-up with him on National TV saying "I have parted ways with you"..She tells him that he has become unpredictable in the game. She wishes him well and advises to play well. People are calling you fake outside, she told Priyank.
11:03 pm: Shilpa Shinde's mother enters the house.Shilpa's mother gives a lot of love to her daughter by hugging and kissing. Later, Shilpa's mom walked straight towards Puneesh Sharma, Luv Tyagi, Priyank Sharma, Akash Dadlani and Arshi Khan and gave them a lesson of how they need to behave with a mother whom they are actually considering. Moreover, she also advised them to not to use abusive language and fight with each other.
10:52 pm: Arshi Khan fights with Shilpa Shinde Arshi Khan once again lashed out at Shilpa Shinde for eyeing his father in a wrong way. Arshi said that she won't forgive Shilpa for this. Shilpa Shinde says that how can someone even think of alleging something so bad.   
10:45 pm: Arshi Khan's father enters the Bigg Boss house. Arshi Khan's father tells Priyank Sharma, "Kam umar ho. Gussa jaldi kar lete ho (You are quite young. But you are short-tempered)" To Hiten Tejwani, he says, "Sabhi bolte hai, acha bolte ho, acha karte ho (Everybody says that you talk nicely and do things nicely as well)." "Aapka to kitna acha good luck chal raha hai (My god, your luck is really favouring you)," he tells Luv. "Aise hi chattaan ki tarah khadi rahiye (Keep standing tall like a rock)," Arshi's father wishes Shilpa. Later, when Bigg Boss releases Arshi from statue, she runs towards her father and gives him a tight hug and tells him, "aap budhe lag rahe ho (You have grown old)", to which her father instantly replies with a smile, "Budha hi to hoon (Yes, I am old)."
Arshi Khan's happiness has no bounds when she meets her father! Catch all the excitement tonight at 10:30 PM. #BB11 #BBSneakPeek pic.twitter.com/2MZRbaYVaL

— COLORS (@ColorsTV) December 7, 2017
10:43 pm: Bigg Boss asks Puneesh's father to leave the house. Housemates get emotional. Hina Khan tells Vikas Gupta that she is shivering. Vikas tells her to calm down and hugs her tightly.
10: 38 pm: Puneesh Sharma's father enters the Bigg Boss 11 house. He compliments Vilkas Gupta calling him the realm Boss of the house. He then moves on to Akash Dadlani and says that he is Puneesh's good friend inside and outside the BB 11 house. Puneesh breaks down on seeing his father and says that Shilpa Shinde is his "darling" and Akash is like a brother to him. Puneesh's father extends his warm wishes to every contestant in the Bigg Boss house. As all the other contestants release, they all go and hug Puneesh's father. 
10: 30 pm: Arshi is elated being the captain. She orders the housemates to behave. Akash Dadlani tells her to not order and irritate him. She tells him that she will change his duty. She gets angry with him for not cooking properly.