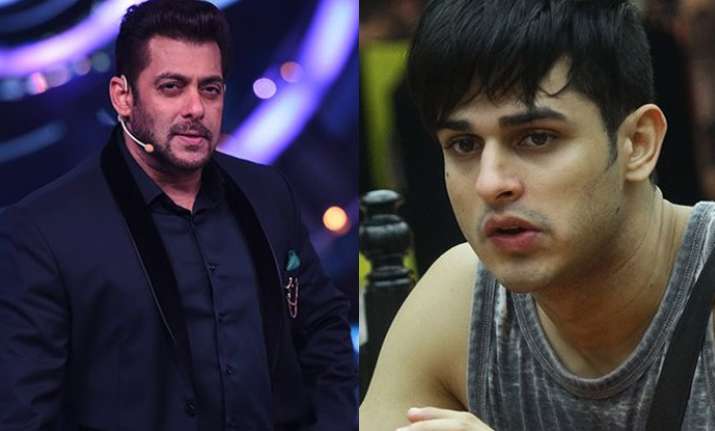 The Weekend ka Vaar episode of Bigg Boss season 11 was explosive as host Salman Khan lashed out at contestants who didn't abide by the rules of the house. The Tubelight actor opened the show with laughter and then, he showcases the infamous fights, taking a sly dig at Shilpa Shinde, Akash Dadlani and Arshi Khan. The Dabangg Khan asks the Bigg Boss contestants to nominate one inmate to sit on the bull as punishment. While Arshi got the maximum votes, Shilpa nominated Hiten Tejwani and this, time even Salman Khan agrees with her and so, Hiten gets the punishment. 
The shocking twist of the Saturday Bigg Boss 11 episode was a footage featuring Vikas Gupta and Akash Dadlani. The duo was seen getting into a heated argument where Akash calls him Gay. Vikas's good friend Priyanka warns Akash and says he shouldn't get too personal. The fight then turns ugly when Priyank gets in the middle and slaps Akash. 
Salman Khan asks Priyank to leave the Bigg Boss house as he didn't abide by the rules of the house and physically abused Akash. Priyank's unexpected elimination has surely got everyone talking.
Salman Khan also takes Zubair Khan's class by questioning his identity as recent reports suggested that he wasn't the son-in-law of Haseena Parkar. He also said he won't tolerate Zubair's behaviour anymore and warned him of severe consequences. Almost every contestant names Arshi for her misbehaviour, instigating one against the other and for also being vulgar. Hence, she is made to sit on a bull as part of punishment. 
Meanwhile, Salman questioned Hina Khan for not raising a voice against Zubair's attitude. He also blamed Hina for not taking any stand despite getting plenty of opportunities. Hina responded to every question of Salman and clarified her stand. 
The Bigg Boss 11 Sunday episode is the first elimination where Zubair Khan, Jyoti Kumari, Arshi Khan, Shilpa Shinde and Bandagi Kalra are battling it out this week. 
For more entertainment news and updates, follow our Facebook page