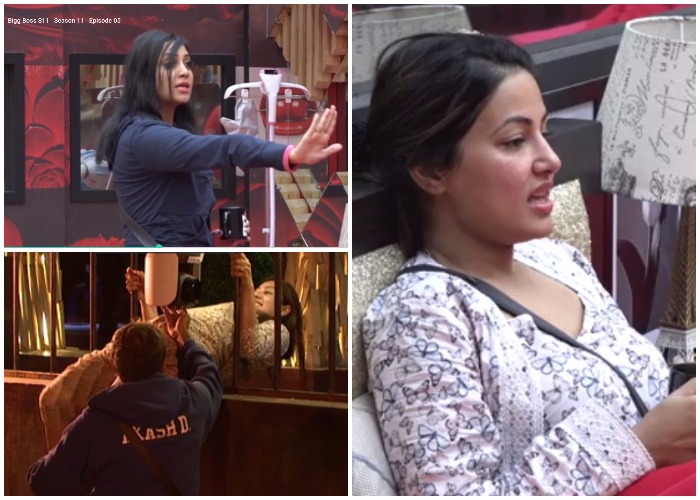 Bigg Boss 11 have seen many catfights, friendships, fallouts, etc right from the beginning of the season. Courtesy Shilpa Shinde and Vikas Gupta's never-ending fights, this season of Bigg Boss is promising more entertainment than any other season. Last night was 'Friday Ka Faisla' where housemates had to nominate three contestants to punish. The three nominated contestants had to go to the 'Kaal Kothri', which is an underground jail in the Bigg Boss house. 
Arshi Khan calls Hina Khan 'The Patli Dolly Bindra' 
The episode starts with a hush-hush conversation between Bandgi Kalra and Puneesh. They are planning that they should make it evident to other housemates that they have developed a liking for each other. In another sequence, Arshi Khan is seen calling out Hina Khan, 'Patli Doli Bindra' and also calls her 'Zubair ki biwi'. She also used cuss words for Hina Khan, while the latter chose not to respond. 
Hina Khan says Arshi Khan is playing just like Priyanka Jagga and she will be kicked out of the house in the 'weekend ka vaar'.  Hina Khan warns Arshi not to touch her next time. Before this, Arshi purposely pushed Hina twice. Vikas Gupta stands for Hina Khan and slams Arshi for being mean to her. Arshi also shames Hina for being kicked out of Yeh Rishta Kya Kehlata Hai. 
Rest of the housemates mocks Arshi Khan. Khan slams Jyoti Kumari for imitating her, Jyoti in turn makes further fun of her. 
Vikas Gupta and Shilpa Shinde fiasco 
Vikas Gupta is infuriated at Shilpa for spoiling her tea. To revenge this goes to the store room and pours tea on her entire belongings. Shilpa is no less, she's not going to let the matter settle down soon. She teases Vikas with an indirect song, which leads to further angering him. While dancing, Shilpa pushes a suitcase which accidentally falls on Vikas's foot. This makes him lose all his calm and confront Shilpa furiously. Housemates intervene to ease them down. 
Shilpa Shinde, Akash Dadlani and Zubair are sent to 'Kaal Kothri'
Housemates nominate Shilpa Shinde, Akash Dadlani and Arshi Khan to the Kaal Kothri, but using their special powers, Padosi save Arshi Khan and replace her with Zubair. Hina is upset at Padosi for saving Arshi Khan, as she was being the unruliest member in the house. She has an emotional breakdown and Priyank Sharma pacifies her. She slams Puneesh for never having a spine and taking a stand. 
Puneesh and Bandgi flirt at the night when Shilpa Shinde breaks through the jail. She goes to the bedroom and puts Vikas Gupta' slipper right next to his face. Bandgi sees it all and removes the slipper from his bed, to avert another big fight between Gupta and Shinde. 
Watch tonight's Bigg Boss 11 episode to see who's going to face Salman Khan's 'Weekend Ka Vaar'. Watch Bigg Boss only on Colors TV at 9 pm on Saturday and Sunday and 10:30 pm from Monday to Friday.