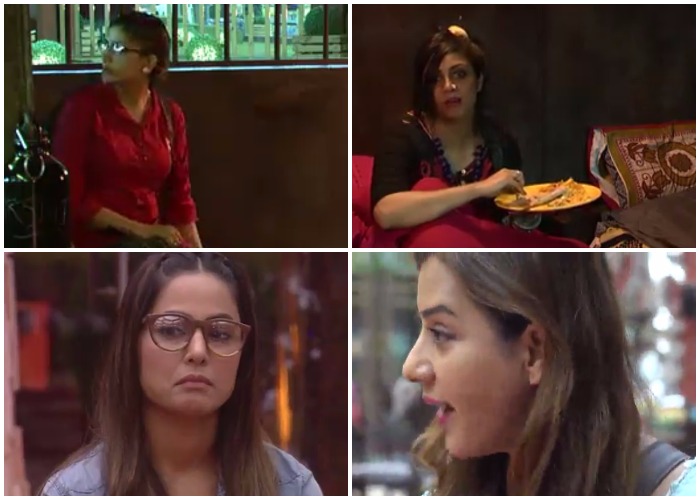 Last night's Friday Ka Faisla started with panellist Saurav Sharma, Sargun Mehta and Manu Punjabi discussing the playing tactics of the housemates. In the morning, Hina Khan, Puneesh Sharma and Akash Dadlani were looking worried about Vikas Gupta being elected as the Captain of the house. Hina is evidently losing it and couldn't take Vikas as the captain. A surprising moment of the episode was when Vikas was seen appreciating Shilpa Shinde and the latter was also talking politely with him. It seems like now Shilpa and Vikas, who were at loggerheads with each other, are now making peace. Vikas being the captain may also be the reason why Shilpa isn't throwing fits at him any longer. 
Bigg Boss announces 1400 points budget for the housemates, which will only be made available for the winner red team. On the other hand, there's a disorder in the house regarding diving chores. Hina Khan refuses to do anything in the house, citing that the captain himself is a lazy man. 
Sargum Mehta slams Hina Khan for body shaming Arshi Khan on National Television
Sargun Mehta, who was sitting on the panel, criticised Hina Khan for bodyshaming Arshi. In the initial episodes, Hina was calling out to Arshi as a 'Drum' for her plump physique. She also shouts out at her, 'Mere jaisi bann nahi sakti tum'. Khan also slams Shilpa Shinde for her typical Indian role in her show Bhabhi Ji Ghar Par Hain. Sargun finds her words very offensive and regressive to be said on national television. 
Hina Khan, Sapna Choudhary and Arshi Khan sent to Kaal Kothri
Vikas Gupta nominates Hina Khan for the 'Kaal Kothri' punishment. Bigg Boss gives Padosi special rights to nominate one more contestant apart from Hina who they want to be sent to the jail. They nominate Arshi Khan to be sent along with Hina. When Bigg Boss asks the housemates to nominate one candidate for the punishment, Sapna Choudhary proposes herself. 
Hina Khan reproaches Benafsha for enjoying the fights
Hina Khan slams Benafsha Soonawalla for never taking stand for anyone. When Arshi Khan and Shilpa Shinde almost had a physical altercation, Benafsha and Jyoti seemed to enjoy the sight. Hina immediately reprimanded Ben for not having a spine to take stand. Sshivani Durga also reproaches Jyoti for enjoying the fights in the house. 
Sapna Choudhary sprays mosquito repellant on Arshi
Hina Khan, Arshi Khan and Sapna Choudhary were sent to the jail, where a fight was almost expected by the viewers. Housemates advises Sapna not to raise her hand on Arshi, otherwise she would get evicted. She doesn't use her hand, but settles her scores in a different manner. Sapna sprays insect repellent at Arshi which pisses the latter off. She throws a fit of anger in the jail. The fight could have gone beyond control, if Hina Khan hadn't intervened. 
The episode ends on a lighter note with Hiten Tejwani teasing Arshi Khan for being in the jail. Khan mockingly flirts with Hiten, which makes him relieved to see her in the jail. He says, 'Naagin andar aur sapera bahar'. 
This week, Hina Khan, Vikas Gupta, Sshivani Durga, Jyoti Kumar and Sapna Choudhary are nominated for eviction.