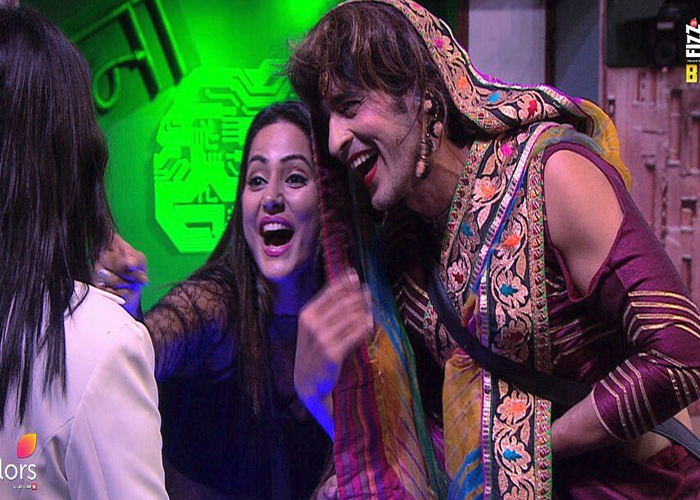 The luxury budget task BB Lab of Bigg Boss 11 continued and Hiten Tejwani, Priyank Sharma, Hina Khan and Akash Dadlani were seen evoking emotions in Vikas Gupta, Arshi Khan, Shilpa and Luv Tyagi. In the today's Bigg Boss 11 Bb Lab task the table turned and the karmachari gang became the robots.  
Here are the live updates of Bigg Boss 11, December 13, 2017:
11:27 PM: Later, Vikas shouts at Priyank for going overboard in the task. 
11:20 PM: Bigg Boss asks Puneesh to announce the winner of the task. He announce team Vikas, Arshi, Shilpa and Luv the winner of the task with a margin of 50 points.
11:15 PM: Hiten tries his best to make Vikas angry while Hina tries evoke anger in Luv. Priyank also touches feet of Vikas to apologise him. 
11:10 PM: Hiten dresses like Arshi and Priyank wears a swimsuit to make the contestants laugh. To make the contestants laugh Akash goes shirtless. Shilpa bursts into laughter after seeing Hiten dressed up like Arshi. And Arshi is out of the task.
11:05 PM: After trying his best to provoke Vikas, Priyank plays the emotional card. he tries his best to make Vikas cry. Further the karmachari's of the house tries their best to make the robots laugh. 
11:00 PM: After all her harsh words at Vikas, Hina says that all she did was just part of the task. At the end she says it was only for the BB Lab task and she apologises to Vikas. 
10:55 PM: Priyank crosses all limits to provoke Vikas. Popular as mastermind on the show Vikas tries to maintain his cool. 
10:40 PM: Hina Khan and Akash Dadlani all set to take the revenge. Hina burst at Vikas. After Vikas Hina and priyank move ahead to Arshi. Hina says do you have a better than doing make-up. Priyank and Hina targets Vikas. Priyank asks Vikas, "You call me your younger brother and you hurl abuses at me?"
10:45 PM: Shilpa, who is popular as mother of the house tells Akash that Vikas did everything at part of the task. Priyank reminds Vikas that Salman had earlier warned that not to talk about sexual orientation. Further Hina asks him to not to behave like women. 
10:30 PM : The contestants woke up to the song emotional atayachar. The song was quite similar to the task assigned to them.