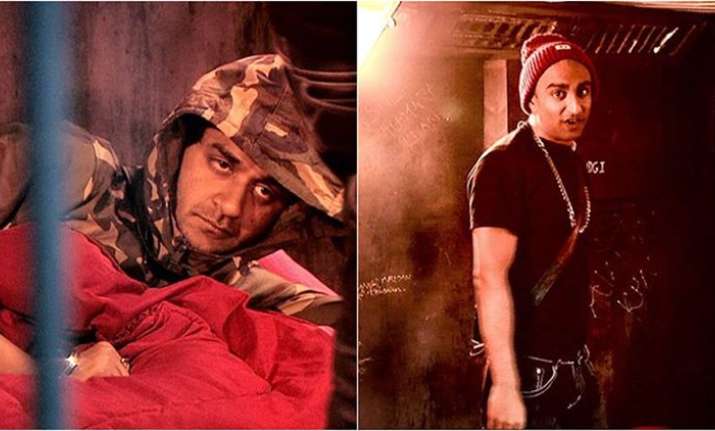 In yesterday's Bigg Boss 11 episode, Hina Khan, Priyank Sharma, Luv Tyagi and Shilpa Shinde emerged as the captaincy contenders for this week. The captaincy task will be announced tonight, which will require the four to stand inside a picture frame and force their co-contenders to opt out of the race. The contender who steps out of the photo frame will be ousted from the competition. Puneesh will soon emerge with a bottle of oil and starts pouring it all over the picture frame in a bid to make the task 'interesting'. 
The captaincy task is announced! Tune in tonight at 10:30 PM to find out who will win it! #BB11 #BBSneakPeek pic.twitter.com/pYwF1X704C

— The Khabri (@TheKhbri) December 22, 2017
On the other hand, Akash Dadlani and Vikas Gupta will engage in a physical tussle inside the kaalkhotri. Vikas will get visibly upset over Akash's comments and threaten to flush his jacket in the washroom. Akash will do the same and it is at this point that Vikas will push Akash violently.
Akash Dadlani and @lostboy54 get into a scuffle! Catch all the action, tonight at 10:30 PM. #BB11 pic.twitter.com/BRO4zGFGQx

— COLORS (@ColorsTV) December 22, 2017
Here are the LIVE Updates of Bigg Boss 11 Day 82 December 22 episode
11: 20 pm: Priyank and Luv have now become against Hina . Priyank says it took me long to judge Hina Khan, but it is never too late. He has understood her well. Luv too supports him. Seems like, it is the end of their friendship. However, Hina thanks Priyank  for sacrificing his captaincy for her.
11:12 pm: Bigg Boss congratulates Hina on becoming the new captain of the house. However, it seems that the TV actress is not happy with the decision as she is seen talking to Luv and saying that she isn't feeling good about the whole scenario. "I would be fine if Priyank would have become the captain", says Hina. Luv is shocked at her behaviour and tells her that she should stop complaining and be happy on becoming the captain for the second time.
11: 10 pm: Bigg Boss says that the captaincy task will be cancelled if they don't take the task seriously. The housemates apologise to Bigg Boss and say that they will perform the task seriously. After much discussion, the inmates get into argument over who will become the new captain of the house. At the end of it all, Shilpa, Luv and Priyank sacrifice her captaincy for Hina Khan. 
11:00 pm: The captaincy task starts off. Hina, Priyank, Shilpa and Luv are all set to battle it out at the endurance captaincy task. Puneesh tries his best to make the task interesting by pouring shampoo and oil on Luv and Priyank's feet. Arshi  on the other hand comes and wipes out all of it, standing in support of the contenders. The remaining gharwale actively partake in the task by trying to distract the contenders; Akash and Puneesh continue to make the task gruesome for the contenders by applying oil and conditioner on the floor of the frame so that the contenders easily lose their balance.
10:55 pm: Hina tells Luv that Shilpa pologised to her when she made fun of her when Rocky Jaiswal had come to meet her. Hina says Shilpa is very like her. "Whether she is nominated or goes in the finale, Shilpa and I are both fearless," says Hina.
10:51 pm: Bigg Boss calls Vikas and Akash in the confession room to settle the matter between the two. Vikas says it is Akash's strategy to instigate others so that they raise hands on him and, get evicted from the show. Bigg Boss is miffed and says that this kind of behaviour is not tolerated in the BB 11 house and gives them a final warning. As Akash and Vikas come back to the kaalkhotri, Vikas apologises to Akash and said that he had no intention of hurting him at all.
10:46 pm: Akash instigates Vikas and resorts to name calling and making fun of him but soon things are out of control as Vikas gets hold of Akash's jacket and decides to flush it down the toilet. As tries to duplicate the same move, Vikas smartly locks him up in the washroom. Vikas and Akash get into an ugly fight and push one another. Puneesh, Luv, Priyank and Arshi try to stop them from getting physical. 
10:36 pm: Hina walks away as Priyank comes to apologise.  He tells Luv  to convey his message and that he is sorry about all that he said and he doesn't need her apology. Luv goes to tell Hinan about Priyank , but she says she is not interested. Hina says she is done with Priyank Sharma.
10:30 pm: Puneesh Sharma instigates Akash Dadlani to irritate Arshi Khan. The rapper tells Arshi that she is jealous of Shilpa Shinde. Hina Khan says she is scared that Vikas Gupta will get in a physical fight to which Shilpa Shinde challenges saying he won't do anything like that. Akash Dadlani calls Vikas Gupta the donkey of Bigg Boss 11.