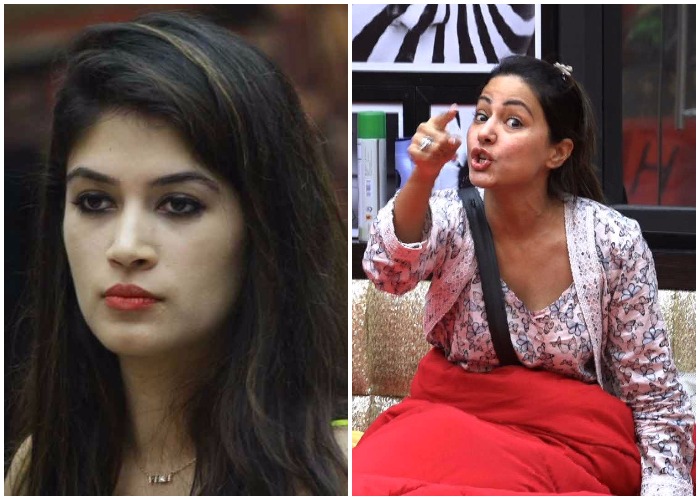 The tables have turned at the Bigg Boss 11 house. It's now the turn for Team Shilpa to exact their revenge on Team Hina for the ongoing Lilliput Vs. Daanav Luxury Budget Task. In yesterday's episode, we saw  Team Hina, which comprised of Priyank Sharma, Hina Khan, Arshi Khan, Luv Tyagi and Akash Dadlani tormented Bandgi Kalra, Hiten Tejwani, Shilpa Shinde and Puneesh Sharma to win the task. Today, it was the turn for Team Shilpa to torture Team Hina. In the episode, it was the first time, cool-minded Hiten Tejwani is seen indulging into a fight with Luv and Priyank over a trimmer. It was a shocking sight to see peacemaker of the house losing his cool over his belongings.
Arshi Khan who was acting the daredevil in the task earlier, gave up as Bandgi threatened to cut her hair. It was Akash Dadlani who had to bear the brunt of the task. Shilpa Shinde and Bandgi Kalra stuffed garlic down his throat. It was although harmless, but Akash Dadlani is allergic to garlic which caused swelling on his face. After a bout of torture, Akash comes out victorious with flying colours. 
It was then Luv Tyagi's turn in the task. Puneesh Sharma exacts his revenge from Luv by trimming his hair. Despite the tortures, Luv Tyagi didn't ring the bell. Bandgi Kalra threatens Hina Khan to chop her hair. Hina, who is growing her hair for a year, warns her against it. Bandgi waxes her neck to inflict pain. Vikas Gupta stops Bandgi from chopping Hina's mane. But she is hell-bent to take her revenge. Hiten Tejwani also stops Bandgi from cutting her hair. Hina clarifies to Bandgi that in the task she cut her own hair to trick her into leaving the task. Shilpa Shinde brings the bathroom mop to torture Hina Khan. She puts garbage on her face so that she leaves the task. 
In the end, it was Team Shilpa who won the luxury budget task as their members were the longest to stay on the platform.