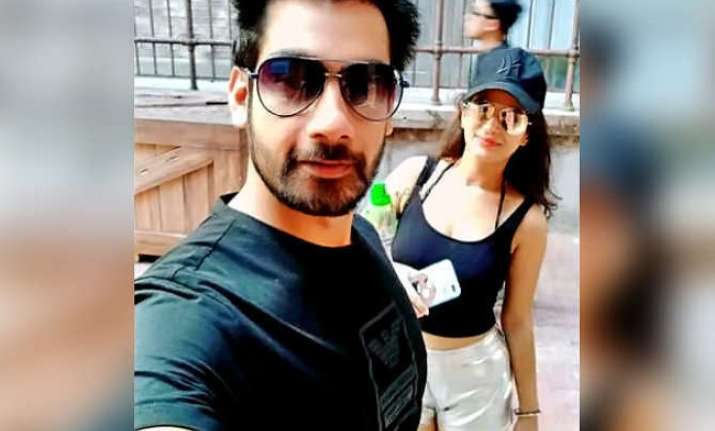 The king of controversial reality shows, Bigg Boss has certainly given us many couples, enemies and sworn enemies. (Friendship is the least occurrences on the show!). A recent breakup which took place on the show was contestant's Bandgi Kalra's with boyfriend Dennis Nagpal. It was due to her growing proximity with a co-contestant Puneesh Sharma, that Nagpal dumped her, on social media. Bandgi has garnered limelight for her last night's kissing antics on the show.
Bandgi already had a boyfriend when she got involved with Puneesh Sharma in the house. In an interview with Bollywoodlife, Dennis Nagpal shared his views on the whole Bandgi-Puneesh episode.
When asked about how he felt when Bandgi joined Bigg Boss 11, he said, "I was happy that she was going to be on the show. I was upset about the fact that I will not get to talk to her for a couple of months or so. Even though she was based in Mumbai and I in Delhi, we used to talk a lot. She would be home by 7pm and we did spend hours chatting. When I came to Mumbai, we stayed together. I knew that things would change post her Bigg Boss stint but not like this but I was very happy for her. She would get popular. It was her dream to become an actor. She had decided to give six months to the entertainment industry. If nothing worked out, she would go back to her career as a software engineer. Bandgi had two years of experience in the corporate sector. I regret in a way that I never expected her to insult me on national TV. Why would she do that when we had a perfect relationship?" reports Bollywoodlife.com.
Dennis Nagpal goes on saying that he will not date any girl who wishes to become an actor or model. He said, "I would never fall for any girl who says I want to be an actor or model. People are normal when they come and say they have interest in the glamour field. But the industry changes them. If any other girl says I am an aspiring actress, I will say sorry I cannot be with you".
Talking about Bandgi falling for Puneesh Sharma, who was already married earlier, he told, "Bandgi gets influenced very easily but I don't understand why would she get cosy when she had a perfect relationship outside the house. Everyone is playing clean. I believe Benafsha has a boyfriend outside the show. She is playing keeping that in mind. Her behaviour has upset me. I am not a person who would get cosy with anyone or behave in this manner. Bandgi might be a little naïve but she is not stupid for sure. There was no insecurity or over-possessiveness in our relationship. We hardly used to fight. Our tiffs were minor and would be resolved in hours."
What went really wrong? Dennis answered the question.
"Looking back, I feel that she was probably looking to call off the relationship once she entered the house. But my point is that why were you waiting for the last minute. You could have ended it gracefully. We went for a trip to Goa in September. It was a fun trip and we did not have any fight. This was days before her entry inside the house. Why were you waiting for the last minute? In August, she flew down to Delhi for my birthday. She spent a lot on the flight tickets, hotel, gifts, etc. Why would she do all that if I was the worst people? I am clueless." 
When Puneesh Sharma and Bandgi Kalra were caught smooching! Watch Video -#BB11 #BiggBoss11 pic.twitter.com/ZjJmb2XXar

— BBWorld (@BiggBossWorld) November 5, 2017