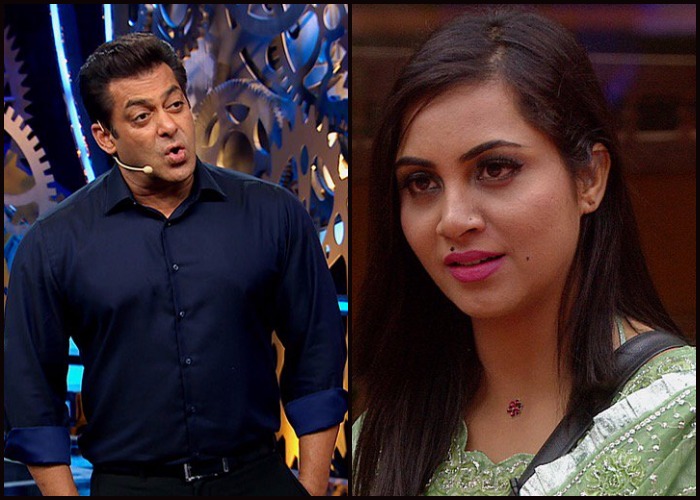 Last night's Weekend Ka Vaar was all about Arshi Khan. The reason behind it was apt as well. In the last few special episodes segment, all the housemates behaved in a cordial manner with each other. The family members and friends of the housemates visited them on the show. Maintaining the warmth of the moment, all the inmates decided not to fight while their family members are inside the house. But Arshi Khan defied the diktat and ended up insulting Shilpa Shinde in front of her mother. She said, "Wahiyat aurat, ab toh chup ho jaa," while Shilpa's mother was already present in the house. She was adamant to ruin the task for rest of the housemates and hence she deserved to face the wrath of Salman Khan's anger on Weekend Ka Vaar.
Salman Khan lashed out at Arshi Khan for being unruly and arrogant. He also accused that she is pointlessly targeting Shilpa Shinde and looking 'foolish' on the cameras. Even the housemates tried to reason with her, but in vain. Arshi was adamant that she didn't do anything wrong and ended up accusing Salman Khan for being partial towards Shilpa Shinde.
Her unapologetic behaviour last night didn't go well with the Bigg Boss 11 fans. Even the ones who once used to be Arshi Khan's fans, criticised her for his cruel behaviour.
Here's what they tweeted:
Ex-Bigg Boss contestant Andy lashed out at her for her behaviour in last few episodes.
it's saddening to see #ArshiKhan disrespect @ShilpaShinde_1 in front of her mom! 😱 Not cool! @BiggBoss @ColorsTV #BB11

— Andy Kumar (@iAmVJAndy) December 8, 2017
TV actor Kunwar Anwar was also disappointed with Arshi Khan's rude remarks.
I don't believe in judgements but #arshikhan is the most ridiculous and horrible person, just couldn't hold back anymore, she doesn't know the meaning of respect and manners @ColorsTV #bb11

— Kunwar amar (@kunwar_amar16) December 7, 2017
#BiggBoss11: #ArshiKhan you are SHAMELESS!! #BiggBoss #ColorsTV #WeekEndKaVaar #BB11

— salil arunkumar sand (@isalilsand) December 7, 2017
And when all the other drama was fading away #ArshiKhan got a new bloody topic to disrespect #ShilpaShinde that she saw his father with anger
Which is a cooked up story **again** seriously arshi khan grow up ab kitni sukaat dikhaoge aap bas kro! #BBSneakPeek #BiggBoss11

— Aakriti Mangar (@aakritimangar) December 7, 2017
#OMG!! #ArshiKhan is calling #SalmanKhan biased towards #ShilpaShinde. Maahan hain #Arsh Ji......I mean should we even react to this guys!!! #BB11 #WeekendKaVaar #BiggBoss11 #ColorsTV

— salil arunkumar sand (@isalilsand) December 8, 2017
Brother, can you please ask Aai to participate in @_BiggBoss11_ ! Winner would be declared on the first day!! She spoke very well and true motherly behaviour!#ArshiKhan you are doomed & marked! Pray you do not turn up in nominations as u would be a saving grace for #HeenaKhan

— Amor - R Scorpio (@manianaamor) December 10, 2017
Last night, TV actor Karan Patel, Rohan Mehra and Arshi Khan were in the house. All the three panellists had the same advice for Arshi Khan. They hinted her to mend her ways as it isn't looking nice on television. Let's see if Arshi Khan mends her ways before it's too late or not.
This week, Shilpa Shinde and Akash Dadlani have been nominated. But the closed voting lines are hinting towards the secret room concept. Tonight in Weekend Ka Vaar, Salman Khan will declare who will leave the house this week.