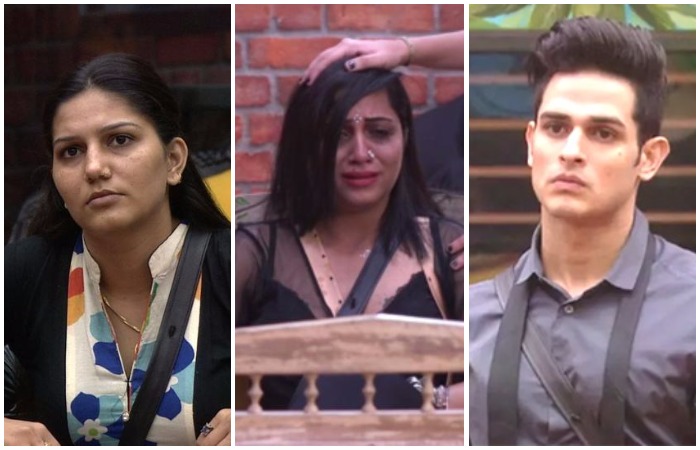 Priyank Sharma is back on the show and the fans are super happy. But his re-entry in the show hasn't been a smooth one. As soon as he made a comeback on the show, things went south. During all the Dhinchk Pooja rap scuffle, Priyank Sharma pegged Sapna Choudhary to mention 'Pune-Goa scandals' to her. As soon as Sapna uttered the scandal to her, Arshi Khan had a meltdown. She also confronted Priyank about how the secret went out among the rest of the housemates. It was one exceptional episode where one of the strongest contenders of Bigg Boss had a meltdown. 
It was visible by her face that her secret is out which she had been hiding all this while. If just like the rest of the viewers, you were wondering what this Pune-Goa scandal is, here's an explainer for you. 
Arshi Khan was reportedly suspected to be a part of flesh trade scandal in Pune in 2016. According to Pune Mirror, she and her two associates were said to be agents who were caught by police. The two men were imprisoned but Arshi was sent to a rescue home, from where she escaped. 
Police Inspector Sanjay Patil, who was in charge of the social security cell of Pune Police told Mirror, "We sent a decoy to the room and when we got the confirmation that she was indeed here for prostitution, we raided the room."
But Arshi's publicist, Flynn Remedios had a different story to tell. According to him, the cops asked Arshi for sexual favours. He told mirror, "The cops found two Aadhaar cards and PAN cards, both with different dates of birth. She had changed her date of birth legally but the cops threatened to book her for forgery and demanded Rs 15 lakh. They asked her to turn approver against Vipul and Krishna, which she also refused. Next, another cop asked her for sexual favours."
Coming down to Goa incident, according to enewzhub.com, Goa police arrested Arshi from a 5-star hotel on prostitution charges. According to the website, she went back to Mumbai proving herself to be innocent. 
After Arshi Khan's infamous Pune-Goa incident came out on national television, her publicist has decided to file an FIR against Priyank Sharma and Sapna Choudhary for defaming her client. Along with Sapna and Priyank, he also decided to sue Colors and Endemol for the damage. In a statement, he said, "Filing FIR/criminal complaint against Bigg Boss 11 contestants, Priyank Sharma, Sapna Choudhary, Colors, Endemol, today under various IPC provisions concerning the dignity of a woman in legally privileged and protected cases. Colors and Endemol are accused/guilty of permitting telecast of legally privileged/protected and subjudice court matters including the right to prevent or avoid self-incrimination by accused or victim woman and using it for TRP and financial gain."