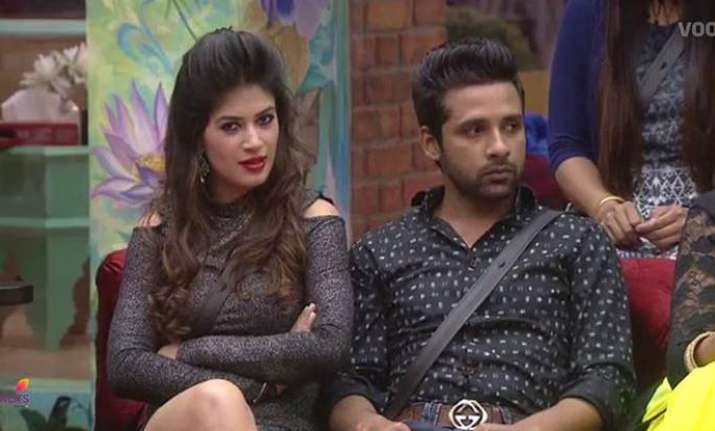 The Puneesh Sharma and Bandgi Kalra's romance inside Bigg Boss 11 house has become the talk of the town. The lovebirds, who have declared their love for each other, have been caught doing excessive PDA on several occasions. During the start of their romantic period in Bigg Boss, Bandgi was taken aback when she came to know that Puneesh is a married man. However, he later cleared the air and said that he has filed for a divorce. Now, Puneesh's marriage pictures are doing the rounds across the internet. 
In one of his wedding photos, Puneesh is seen dressed as a groom and sitting on a horse. In another picture, he and his wife are seen performing some rituals.
Although the Bigg Boss 11 couple Bandgi and Puneesh have been getting cozy, in the last few days, Bandgi seems to have realised that her image has gone for a toss and hence has been hinting at a breakup. In fact, in a video, she scolded him for touching her without her consent, which earlier wasn't an issue.
Also Read: Bigg Boss 11: Bandgi Kalra scolds Puneesh Sharma for touching her without permission in this unseen video
Puneesh Sharma is a resident of Gurugram and has a construction business. The 28-year-old wealthy businessman has been born and brought up in Delhi and calls himself a hardcore Delhiite. It won't be wrong to say, that he is a celebrity in his own light, who calls his "class" his high point.
A known face in Delhi's Page 3 circuit, Puneesh is an investor in the NCR's chain of Playboy Club too. He has brought his high-profile attitude on the show as well and intends to show the celebrities that even a commoner can live a life king size!
Now that Puneesh's wedding pictures have gone viral, it will be interesting to see how Bandgi reacts to it once she comes out of the Bigg Boss 11 house.
For more entertainment news and updates, follow our Facebook page