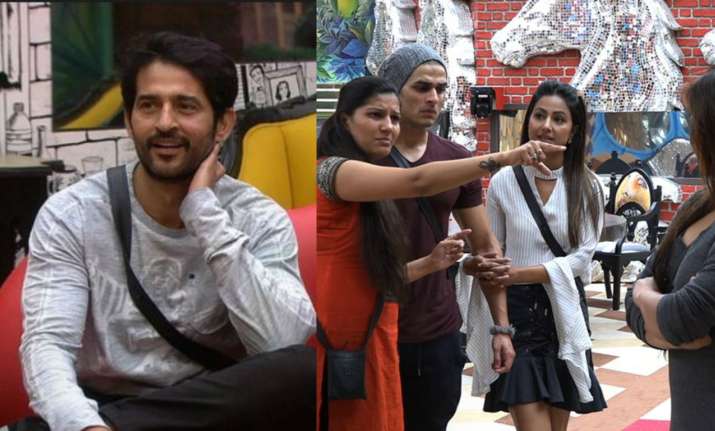 After failure of the luxury task on Thursday night, it was obvious for the house to gear up for some heated arguments and controversies. Friday episode also saw a captaincy task among Hiten Tejwani, Vikas Gupta, Arshi Khan, Akash Dadlani and Shilpa Shinde.
Bigg Boss gave everyone a chance to select the housemate who they don't want to see as the captain. In the task, posters of five contestants were placed and buzzers were played four times at a regular interval. The first person to reach the podium will get the chance to spray on the contestant's picture whom they don't want to win in the captaincy task. Akash was super excited to win the captaincy task, however, his hopes were shattered after his 'best friend' Puneesh couldn't help him. Akash insists Puneesh and Hiten to nominate him for the captaincy while Shilpa asks Puneesh to nominate Hiten.
Hina paints Akash's picture. On the other hand, Akash asks Puneesh to paint Hiten's poster in order to prove his friendship but Puneesh loses the chance. This upsets Akash, while Shilpa tries to control him, Hina is adamant on instigating him. Finally Puneesh asks Akash to tell him, whom to spray it on. Akash asks him to spray on Shilpa's poster as he wants Hiten to be the captain.
While Akash creates uproar in the house, Sapna, Priyank and Hina mock the situation. Hina sarcastically says that the house fears her. Akash says that everyone in the house is selfish as no one voted for him. He says that Arshi is his only friend.
Shilpa and Vikas discuss something about Sapna which she overhears. Sapna creates ruckus inside the house and questions Shilpa. Later, she bursts into tears after Puneesh comments on her profession. While Priyank consoles her, Hina instigates her against Shilpa. And as you know, Bigg Boss 11 house is best known for its gossips, Bandgi fuels Puneesh against Akash. 
Stay tuned to this space for all Bigg Boss 11 updates