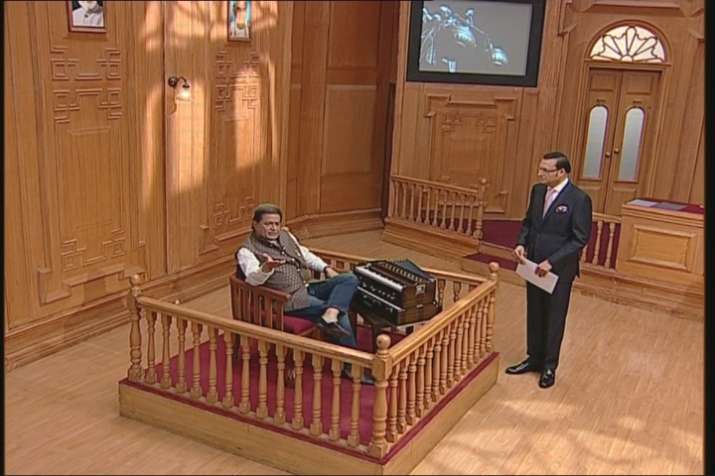 When it comes to bhajan, Anup Jalota is one of the first names to strike our minds. The Padma Shri awardee is popular for his bhajans and ghazals. Aisi Lagi Lagan, Jag Mein Sundar Hai Do Naam, Rang De Chunariya, Maiyya Mori Main Nahi Maakhan Khayo are his some of popular bhajans. Everything was fine until he appeared in controversial show Bigg Boss and that too with his 'alleged girlfriend' Jasleen Matharu. This took everyone by surprise as it went against his image and public perception.  Unaware how "Guru-shishya jodi turned into 'love Jodi," said Anup Jalota 
After hogging the limelight in Colors' show Bigg Boss Season 12, the popular singer appeared as a guest on India TV's popular show Aap Ki Adalat, where he spilled the beans on his relationship with Jasleen. He spoke openly on many things and defended himself against several allegations. Along with it, he also entertained audience with his songs. This is the first detailed and exclusive interview of Anup Jalota after his eviction from Bigg Boss. Check out all the highlights of the episode:
ALSO READ:  Bhajan King Anup Jalota spent a whopping Rs 7 lakh on his hair transplant
Did Jasleen Matharu have an affair with Sukhwinder Singh? Anup Jalota says so!
11:03 PM: I am a versatile singer, says Anup Jalota
11:02 PM: Anup Jalota entertains audience with Bhojpuri and Bollywood songs.
10:59 PM: My unplanned bhajan album shot me to fame: Anup Jalota.
10:53 PM: Should I sing bhajan carrying a kamandal, asks the bhajan samrat.
10:48 PM: Anup Jalota answers allegations by Isreali model Rina Golan. He asks for proof.
10:46 PM: I have helped Kanika Kapoor, Richa Sharma, Jaspinder Narula, Udit Narayan in their singing careers, says Anup Jalota.
10:40 PM: I have suffered financial loss due to Bigg Boss: Anup Jalota.
10:37 PM: Anup Jalota sportingly shares a meme made on him.
10:35 PM: After coming out of Bigg Boss, I cleared misunderstanding of Jasleen Matharu's father: Anup Jalota
10:32 PM: Anup Jalota opens up on Jasleen Matharu's adult movies made by her father. I have nothing to do with the background of my students, I can teach music to even Rakhi Sawant: Anup Jalota
10:30 PM: On being accused of deceiving fans in Aap Ki Adalat, Anup Jalota was quick enough to ask 'Didn't we entertain you'. I didn't suffer any kind of damage by participating in Bigg Boss: Anup Jalota
10:18 PM: It was a fatherly kiss: Anup Jalota on Jasleen planting a peck on his cheek in Bigg Boss. ''Date sequence of Bigg Boss was scripted. Makers organised a date and asked us to make it special,'' says Anup Jalota.
10: 17 PM: I along with Jasleen's father will perform her kanyadaan, says the singer.
10:14 PM: I came to know about love angle at the last moment, says the singer. ''Promotional video with Jasleen was for entertainment purpose''
10:13 PM: I told Jasleen 'let's enter the show as guru-shishya': Anup Jalota
10:10 PM: ''Jasleen has been learning music from me since last 3 years. She contacted me to be her jodi in Bigg Boss 12. Initially, I was reluctant but then I agreed,'' says Anup Jalota.
10:09 PM: Anup Jalota denies relationship with Jasleen Matharu.
10:06 PM: People have wrong image of bhajan singers, says Anup Jalota. My image hasn't been tarnished, he says.
10:04 PM: India TV's Editor-in-chief Rajat Sharma questions him about Jasleen Matharu. ''I am not a saint,'' says the singer.
10:02 PM: I have brought my first wife along with me, says Anup Jalota pointing at harmonium. He then goes on to sing 'Kuch Toh Log Kahenge'.
10: 01 PM: Anup Jalota arrives in Aap Ki Adalat amid a huge round of applause.
For full coverage on Bigg Boss 12, click here
Do not forget to tune in to India TV at 10 AM on Sunday to watch repeat telecast of full episode.
​