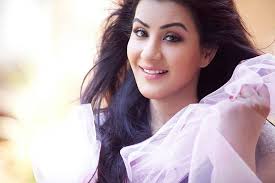 Bigg Boss 11 winner Shilpa Shinde, who is currently seen on Dhan Dhana Dhan as Googly bhabhi with Sunil Grover, is back in the news. The TV actress recently created a storm across the internet by sharing an adult video on social media. Now, the Bhabi JI Ghar Par Har Hai actress has come to the forefront to encourage victims of morphed images to raise their voices.
Taking to her Twitter handle, Shilpa Shinde said, ""My only request to everyone who become victim of disgraceful morphing, which is often done by few evil minded people.Raise ur voice against it that it's not u. Your family and near & dear ones should also support u. Remember, hum darte Hain isiliye log aur darate Hain."
Furthermore, in her recent Instagram post, the BB 11 winner defined the philosophy of life. "Have a good attitude and life can be whatever you want it to be', she said.  The actress captioned the video on Instagram writing, "Life ka falsafa for my sweet angels".
Shilpa Shinde shared the controversial adult video in response to the viral video that was widely circulated on the internet after her ouster from Bhabhi Ji Ghar Par Hain. While her fans sided with her, Hina Khan and her boyfriend Rocky Jaiswal criticised the actress' move that possibly has maligned the image of the woman in the video.
This left her fans and followers baffled as she is a celebrity. Despite all the ire, Shilpa didn't delete the tweet and wrote, ''Thank u Jo mujhe support Kar rahe Hain. Those who think am wrong, where were u, when such wrong videos made viral. अपने defence मैं कुछ नहीं बोल सकती क्या? Media took no time in making it viral that time, where r they today? Thanks SM for giving me platform to speak the truth.'