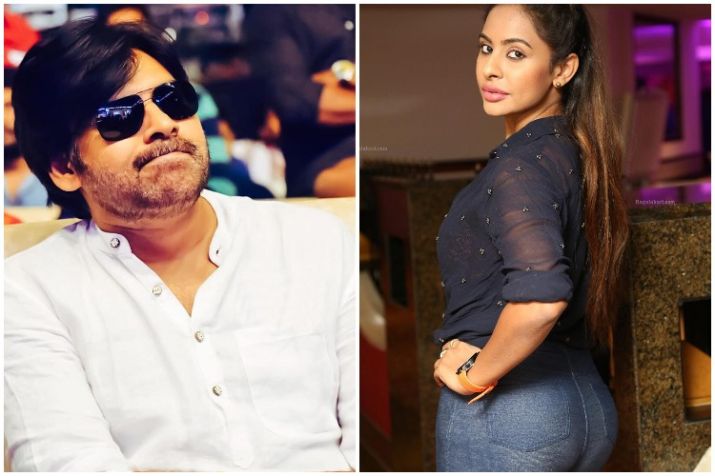 Actress Sri Reddy, who protested against the prevalent casting couch in the Telugu film industry, has apologised to power star Pawan Kalyan for her derogatory remarks on him. Her protest was gaining momentum and indirectly many people were supporting her but the moment she abused Pawan, people got furious and even condemned her. The fans of the actor trolled Reddy for her cheap behaviour. As the lady saw that things are getting accelerated, she took to social networking site Facebook to apologise for her bad behaviour.
Sri Reddy wrote, "Bhahiranga kshamapanalu(sincere apologies) to the pawan nd his mommy..unnecessary we blamed by many,ur enemy made us to do this and forced us do this in a good advisor mask..i am not belongs to the any political party..i didnt work for the biryani sorry..I hope u nd ur fans should digest nd understand the truth..trolling its fine I face it for my mistake."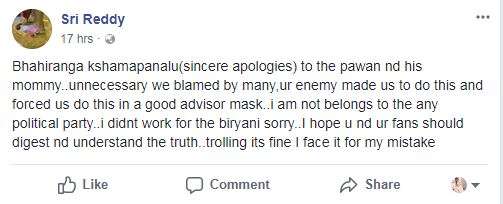 Earlier, the lady has revealed many dark secrets about the industry and made several allegations. She even accused Baahubali star Rana Daggubati's brother Abhiram Daggubati of sexually exploiting her.   
Pawan Kalyan had earlier opened up on the issue stating that the lady should have filed a complaint rather than resort to sensationalism.
What is going to be the result of this protest? Well, people will get to know in coming days.