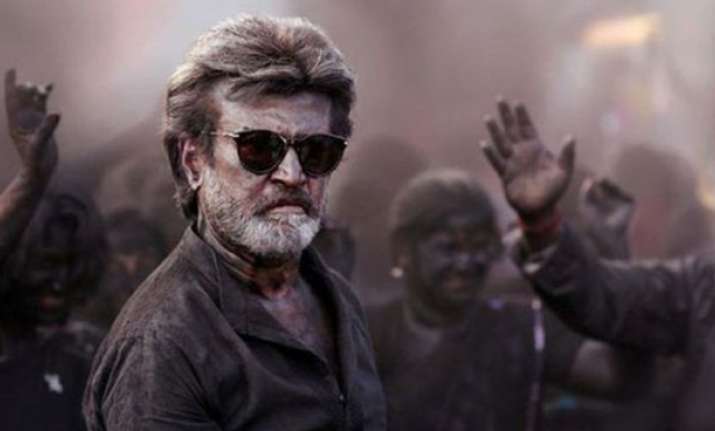 Surpassing all controversies, Rajinikanth's much-awaited movie Kaala finally hit the theatres including the ones in Bengaluru as well. Directed by Pa Ranjith, the movie released on June 7 worldwide in Tamil, Telugu, Hindi and English. After Kabali, Pa Ranjith and Rajinikanth have collaborated again for Kaala, which has been helmed with a whopping Rs 180 crore. The crime drama also stars Nana Patekar, Samuthirakani, Aruldoss, Eswari Rao, Huma Qureshi and Anjali Patil among others. 
Kaala is based on the life and uprising of Tirunelveli based Tamils living in Dharavi slums. Rajini plays the character of a man who escapes to Mumbai during childhood and goes on to become a righteous gangster of its people.
The fringe groups of Karnataka were hurt by the statement of Rajinikanth on Cauvery water dispute hence, they demanded a ban on Kaala. Karnataka Film Chamber of Commerce said that distributors and exhibitors refused to screen the movie fearing the backlash from pro-Kannada groups. However, the film has been screened in few theatres amid raging protests across the state. While Thalaivar's fans continue to celebrate the release of Kaala, here's a compilation of what critics have to say about the movie. So, if you are confused about 'to go or not to go' for Rajini's latest venture, read the Movie Reviews and Movie Ratings by various critics:
Baradwaj Rangan says 'The second Rajini-Ranjith outing is better than Kabali, but still an odd fit for both'
''Ranjith, however, is a far more political filmmaker, and unlike Mani Ratnam, he isn't content to tell a story around his star. He wants his star to be the speaker through which he disburses his ideologies. In that respect, it must be said that Kaala is far more accomplished than Kabali — far more interesting as well.''
The Hindu's Vishal Menon: An underwhelming film made for Rajinikanth, the politician
''Kaala is certainly more a Ranjith movie than Rajinikanth and that isn't a terrible thing, given the fact that Rajinikanth isn't merely a star anymore... he's a politician too. The timing couldn't have been better for their reunion.''
Also Watch
'Rajinikanth, Humanized But Has His Trademark Moments. Enough said' writes Saibal Chatterjee
''An appreciably toned-down superstar takes something away from the film's power to deliver the big thrills but places at its disposal a radical, relevant range of issues that burst out of the confines of the genre and take on a life of their own beyond the persona of the overpowering lead actor. In terms of thematic thrust, writer-director Pa Ranjith may not be offering anything particularly unprecedented here, but his firm emphasis on the biases of caste, religion and gender that India's urban poor have to contend with on a daily basis turns Kaala into a hard-hitting take on poverty, abuse of power and exploitation.''
Shubhra Gupta writes 'Pa Ranjith's sensibility and Rajinikanth's charisma work wonders'
 ''Pa Ranjith's sensibility and Rajini's charisma work together to give us something that's gone missing from big-budget starry tentpoles: a strong feel for the underclass as the main focus. Kaala is not wholly in the service of the mythic Rajini: yes, there are superbly staged fight scenes which are strictly for fans, and enjoyable for the rest of us, because who doesn't like one man taking on a bunch of baddies in the cause of righteousness? But this Kaala is human, and that makes him instantly more relatable than the man who tosses cigarettes into his mouth without once dropping them.''
Rajeev Masand says 'Pa Ranjith Humanises Rajinikanth in a Character Worthy of his Talent'
''Ironic, given that Kaala is not your typical Rajinikanth 'event movie'. Far more coherent and considerably more enjoyable than 2016's disappointing underworld rivalry saga Kabali – also directed by Pa Ranjith – Kaala is a return to storytelling and character-based acting. Kaala is a polished production with slick set pieces, including an action scene built around an umbrella as the only choice of weapon. Then there is the powerful climax with an imaginative use of color.''
Also Read: Kaala hits screens: 5 reasons why you shouldn't miss this Rajinikanth-starrer
While Kaala makes a thunderous entry at theatres, here's what 'Thalaivar' Rajinikanth is upto!
As far as box-office collection is concerned, Kaala garnered lukewarm response in terms of initial bookings, unlike the actor's previous movies. However, trade analysts are hopeful that the film will do good business over the weekend. 
For all latest news, keep checking our Facebook page