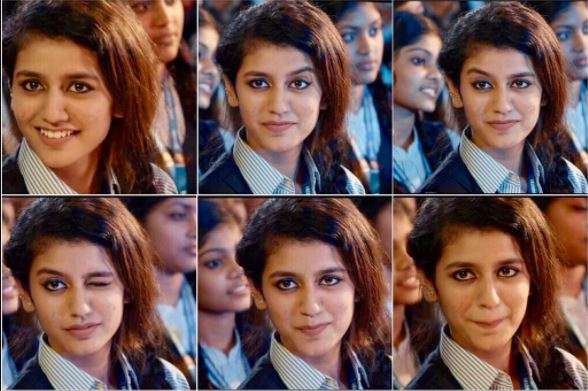 With just a wink of an eye, Malayalam actress Priya Prakash Varrier became an internet sensation last weekend. In fact, her wink has become the first viral sensation to come out of India in 2018.
In the video of the song Manikua Malaraya Poovi from the upcoming Malayalam film Oru Adaar Love, the 18-year-old plays a schoolgirl, flirting with a fellow student, raising her eyebrows and winking at him. Following the release of the video on YouTube on February 9, a snippet of this moment spread like wildfire across the internet.
Check out the viral 'wink' video here:
Varrier quickly became the nation's love. Her Instagram profile saw a groundswell of new followers: by Tuesday evening, she had 2.3 million.
When asked about the actual idea behind the viral 'wink', the young actress said the wink was spontaneous and she never thought that video clip would become such a hit.
Also Read: Priya Prakash Varrier:  Movies, Photos, Videos, News & Biography
In an interview to NDTV, Priya Prakash Varrier said, "Actually, the director wanted to capture something cute between me and my hero. So, he told me if I can do the eyebrow thing and wink at him. I told him that I could give it a try. That's how it worked out. It was spontaneous, and we hadn't planned anything."
Priya Prakash Varrier lives in Thrissur in Kerala, where she is studying for a Bachelor of Commerce degree. Oru Adaar Love is her debut film. The flood of attention that Varrier has received has, however, unnerved her.
"I never knew it would be such a huge hit. Appreciation is pouring in from different parts of the world. I am really excited," says Priya, the celebrity in a 'wink'.
On a related note, post this viral 'wink' video, the makers of Oru Aadar Love have released the film's trailer, a day before Valentine's Day and the teaser is storming the internet once again. Check it out: