 Movie Name:Judwaa 2
Critics Rating: 2.5 / 5
Release Date: 29-09-17
Director: David Dhawan
Genre: Action-Comedy
The lovers of good-old 90's were waiting with bated breath for the release of a new version of Judwaa. The action-comedy drama helmed by David Dhawan is out now on Silver screen, and the lovers of slapstick comedy couldn't hold their excitement. Varun Dhawan-starrer Judwaa 2 hits the screens on 29th September, facing no competition from any of the new releases. Also starring Jacqueline Fernandez and Taapsee Pannu, the film promised full two-hours of action and comedy. Let's see if Judwaa 2 manages to sweep the audience off their feet. 
Judwaa 2 Plot 
Judwaa 2 is spun around two lead characters, Raja and Prem, who are look-alikes but are completely unfamiliar with each other. They are separated from each other right after they were born. Prem leads his life in luxury in London with his biological father Rajeev Malhotra, who's hiding from the underworld kingpin Charles as he got him arrested in Mumbai. Whereas, Raja spent 22 years of his life on the streets of Mumbai, without a mother or a guardian to take care of him. Their lives cross their path when Raja moves to London, escaping Alex, whom he injured badly in a street scuffle. Alishka (Jacqueline Fernandez) falls in love with Raja, mistaking him for business tycoon Rajeev Malhotra's only son. The 'Sanskari' and feeble Prem lands into trouble when he finds Police tracing him for immigration charges. College hotshot Samara (Taapsee Pannu) falls for Prem, confusing him for a bellicose. Coincidence takes them all to the same place- London, where the film begins its due course with heaps of carcass WhatsApp jokes and two chicks vying to get attention. 
Judwa 2 Movie Review 
First of all, I would like to mention that Judwaa, unlike other comic films, had huge expectations to live up to. Going back to 1997, when Salman Khan-starrer Judwaa came out and garnered massive appreciation. Though we know that the film was no great or different from its contemporaries, but excellent promotions and audience buzz took Judwaa, where it stands now - a superhit. It met its opening with colossal box office figures, establishing it as the ninth highest-grossing movie of the year 1997. For your records, Judwaa itself was a Hindi remake of Chinese film Twin Dragons. Another aspect that added volumes to the movie was its groovy tracks, thanks to Anu Malik. Even to this day, Judwaa songs makes a shake a leg when it plays. Surely, we can't get over them. 
Moving back to Judwaa 2, the film follows somewhat similar overtones. Raja and Prem are Judwaa, completely unaware of each other's existence. They also share a bizarre congenital disorder, or rather say 'Vardaan', which is fancily referred to as 'reflection mentality'. This means an action by one will invoke the similar action in the other twin. It was the catchiest feature of the film, where Raja's short-tempered antics threw Prem into trouble, sometimes beating up his own therapist and kissing his girlfriend's mom. Prem kissing Samaira's mother, threw us into an 'eww' moment for a second while giving us a fit of laughter a moment later. The audience will find themselves in the guilt of laughing at something yuck as this. But that's the strong suit of Judwaa 2. David Dhawan makes even the smallest piece of action a matter of laughter riot. The filmmaker is a winner at some points.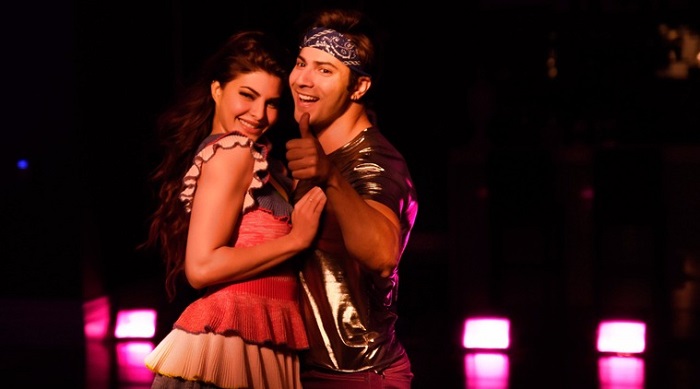 Talking about the comic timing of the film, it's a pleasure to have Judwaa 2 at this time of the year. Looking back at the timeline of films released this year, so far, it seems like Bollywood has fixed its sort with high-octane drama films. Last week, we saw two big releases Haseena Parkar and Bhoomi, none of which can be watched with a light-hearted disposition. As Navratri festival is already going on and Dussehra inching near, David Dhawan couldn't have chosen a better time to release this slapstick comedy. For all those who are planning to have a perfect family outing, Judwaa 2 promises them a full two-and-a-half hour of entertainment, hysterical laughter and tears (perhaps if you tend to cry while laughing!). Judwaa 2 is a delightful to watch with your family, surrounded by the festival air. To cut it short, David Dhawan and son Varun Dhawan has an ideal gift for you this Dussehra. 
Although, the clichéd WhatsApp jokes, which we've already heard over a hundred of times can be considered a hiccup in the smooth course of Judwaa 2. But guess what? You can't hold your laughter even on the most baseless and repetitive joke of the film. Sample, when Varun Dhawan pulls out his heavily-repeated line in the film 'Ammi Jaan Kehti Thi', you know what's going to happen. But you can't impede the laughter which is imminent. Thus, these tiny loopholes about Judwaa 2 can be easily dodged off; even more easily if you're a hard-lined Varun Dhawan fan. 
Superb performance by Varun Dhawan; Jacqueline Fernandez and Taapsee Pannu were visually appealing
Before we judge Varun Dhawan's dual-toned performance in Judwaa 2, we would like to reinstate the fact that he was tacitly overburdened by the expectations of Salman Khan fans. Wasn't he? Being a die-hard Salman Khan fan, one's going to watch the film even more minutely scrutinizing eyes, to find where Dhawan fails to justify the legacy of Khan. In short, Varun Dhawan had big shoes to fit in. Right from the trailer, we could see that the actor has been pushing himself beyond the limits to rehash the magic of old-Judwaa on the screen, in the year 2017, where Indian cinema is primarily dominated by mushy love stories and high-voltage drama. Though sceptical the audience is at the beginning, but as the film progresses, Varun Dhawan fits perfectly as himself in Judwaa 2. Suddenly, the film becomes everything about him, instead of being a remake as a whole. If David Dhawan plans to continue the franchise, seeing Varun Dhawan playing the titular role will be a pleasant and acceptable sight.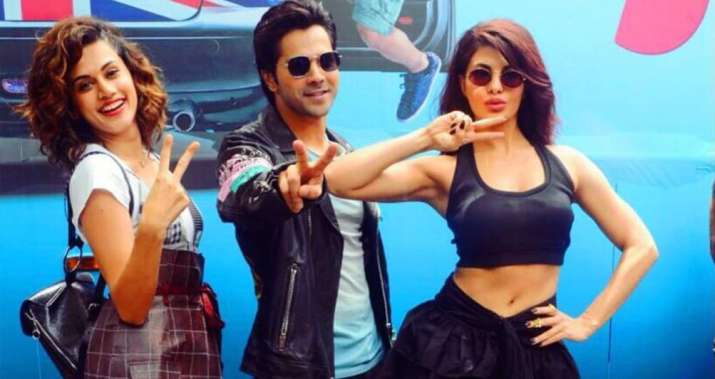 Jacqueline Fernandez plays the role, which we seen her doing before. Her adorable baby face suits the comic role she's been assigned. Playing an overtly-attached girlfriend, Jacqueline Fernandez does it all that's required for her character. Taapsee Pannu is playing a college hotshot, which is a completely new-fangled sight for her fans. Earlier, she did movies like Baby, Naam Shabana and Pink, which typecasted her as a strong-headed woman with a direction. Seeing her as a college girl, clad in chicest dresses and bikinis was a visually enjoyable sight. Although, on acting part, we expected a lot more from the actress than she was seen doing in Judwaa 2. On a whole, the actresses had very little to do in the film, only adding to the picturesque beauty of London and trying to catch attention every once in a while. 
Judwaa 2: A hit or miss? 
You'll find the good old 90's playing back in your mind while you're watching the film. During 90's, the films were total entertainer, regardless of what the box office numbers might be. Judwaa 2 follows the same league. It never shrieked intelligible stuff, it's going to be foolish and that's it about the film. How often do you expect a comedy film to be sensible and full of gumption? If gumption was requisite in comedy, then Tom and Jerry could've been a massive failure rather than a hit. To satiate your desire of laughing your wits off, go for Judwaa 2.