 Movie Name:Luka Chuppi
Critics Rating: 3 / 5
Release Date: March 1, 2019
Director: Laxman Utekar
Genre: comedy-drama
After riding on the fame of Sonu Ke Titu Ki Sweety that released early last year, fans were waiting to see their favorite star Kartik Aaryan spread his magic on the big screen once again and he clearly managed to steal the show with his Luka Chuppi. Directed by Laxman Utekar, the film tries to delve on the issue of 'live-in' relationships and weigh the pros and cons of it. However, not taking any inspiration from earlier Bollywood movies like Salaam Namaste or Arth, Kartik Aaryan and Kriti Sanon starrer just touches to the surface of the issue and loads it with endless comedy.
Luka Chuppi Plot
Luka Chuppi is set in the backdrop of small cities like Mathura and Gwalior where Guddu Shukla aka Kartik Aaryan is a star TV reporter and meets Rashmi Trivedi aka Kriti Sanon and the two fall in love. Rashmi's father is a political leader who runs a party named 'Sanskriti Raksha Manch' that doesn't let young lovers meet each other before marriage. He is strictly against live-in relationships. When Guddu proposes marriage to Rashmi, she suggests they should try living together before marriage in order to understand each other well before running to the altar. Soon the 'live-in relationship' turns into a 'live-in marriage' and Guddu-Rashmi see themselves falling deeper and deeper in the much-laughable chaos. The only solace they find is in their friend Abbas aka Aparshakti Khurrana's idiotic ideas.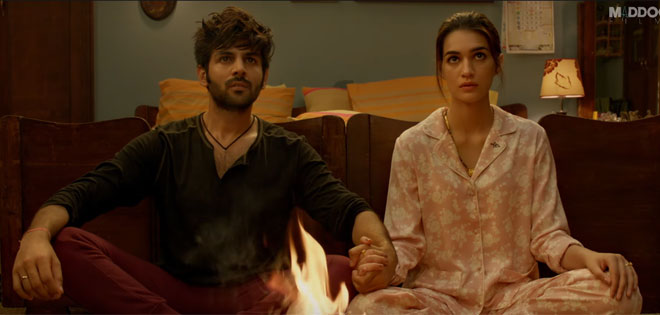 Luka Chuppi Review
While Luka Chuppi manages to highlight that 'live-in relationship' is still frowned upon in our country, it hardly tries to give a strong message about it. Rather, the whole subject gets a comical turnover. Having said that, Kartik Aaryan and Kriti Sanon's film ensures that you have a good time for those 125 minutes. Even after a weak screenplay by Rohan Shankar, the film is load itself with consistent comedy and a few scenes are sure to leave you laughing hard. For instance, when Guddu Shukla leaves his house to join Rashmi for a 'live-in relationship', the whole scene is projected in a way that his bidai ceremony is happening and the song 'babul jo tumne sikhaya, piya ghar le chali' from Hum Apke Hain Kaun plays in the background. Trust me when I say that your stomach will hurt laughing. While most of the action happens in the first half of the film, second half entertains to the core. Kriti Sanon and Kartik Aaryan's chemistry looks adorably cute and fills the film with cute moments.
As a debut director, Laxman Utekar has done a fine job at making people laugh and putting out a thoughtful situational comedy. While Luka Chuppi is a youth-oriented film, he has made sure that it doesn't rely on double-meaning jokes for a good laugh. It is a clean, family film.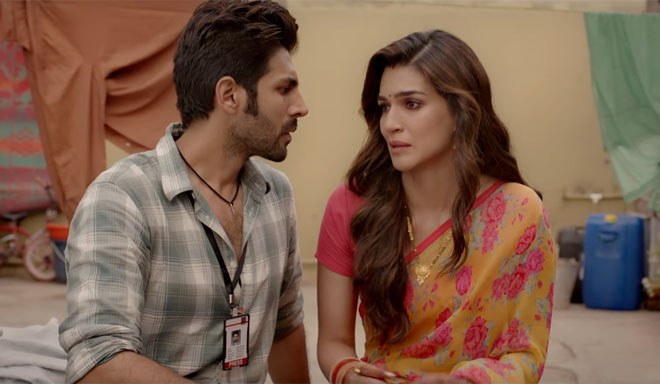 Luka Chuppi | Star Performances
If you are a big Kartik Aaryan fan, you will enjoy seeing a lot of him in the film. The actor portrays Guddu in the most innocent way and his amiable personality makes him all the more adorable. After featuring in two youth-oriented films, Kartik Aaryan's charm undeniably works for him here again. Talking about his lady love Rashmi aka Kriti Sanon, the actress looks nothing but a second version of her character from Bareily Ki Barfi. Her acting is regular and oozed the similar kind of charm that we have seen before. 
Kartik Aaryan and Kriti Sanon did sail this boat swiftly but who charms the most is the master of all, Pankaj Tripathi. The actor isn't used to his full capacity in the film but whenever he is in the frame, he brightens it up. Another actor who deserves applaud is Aparshakti Khurrana who proves it yet again that he is the best for situational comedies.
Other actors like Vinay Pathak, Atul Srivastava and others have done a fine job at making life hell for Guddu and Rashmi. They contributed to the plot satisfactorily and added the dose of laughter every now and then.
Luka Chuppi Verdict
If you are a big fan of comedy-dramas and are looking for a mood-changing film, Kartik Aaryan and Kriti Sanon starrer Luka Chuppi is waiting for you. The film promises to make you laugh and keep you at the edge of your seats the whole time. It is not too preachy and ensures that you take away a few moments from the film with you.
Luka Chuppi Trailer