 Movie Name:AndhaDhun
Critics Rating: 4 / 5
Release Date: 05-10-2018
Director: Sriram Raghavan
Genre: Crime-Thriller
AndhaDhun is Sriram Raghavan's another thriller flick, after Badlapur and Johnny Gaddar. Starring Ayushmann Khurrana, Radhika Apte and Tabu, the movie is intriguing and leaves the audience in pleasant shock at various occasions. Right from its visually impaired pianist protagonist (Ayushmann) to the mystery-thriller premise, the noir black-comedy has created a significant buzz in the film circuit. Produced by Viacom 18 motion picture, the film also stars Anil Dhawan, Zakir Hussain, Ashwini Kalsekar, Manav Vij and Chaya Kadam.
AndhaDhun Plot
Ayushmann plays Aakash visually-impaired pianist around whom the story revolves. AndhaDhun is a quirky take on a thriller. What happens when he 'witnesses' a murder or a series of murders? And more interestingly, is Aakash actually a blind person?
AndhaDhun Movie Review
Set in Pune, Sriram Raghavan's film starts off with Aakash falling in love with Sophie (Radhika Apte). The first twenty minutes is filled with generous songs and character development sequences. And then, all of a sudden everything changes when Aakash meets Simi (Tabu). You find yourself in a roller coaster ride so filled with thrills that you don't get time to realize anything as the film moves from one point to the other rapidly taking you by surprise one at a time.
AndhaDhun belongs to Ayushmann as the film revolves around his 'blindness'. He sheds his image of a romantic hero and delivers a performance he might find challenging to ace.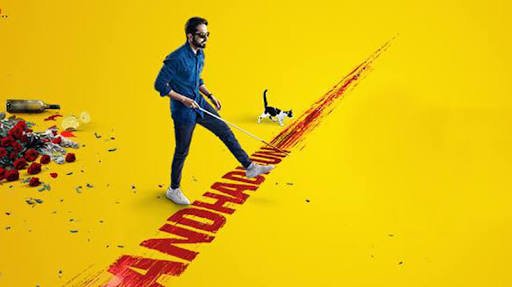 Tabu as Simi is a treat to watch. The National Award winning actress Tabu is at her fascinating best in the thriller. Simi comes across as an incorrigible tease who is unthreatening one minute, but unadulterated evil the next. Watching her switch from being the seductress to a widowed, 'helpless' woman will be worth your ticket money.
'Radhika as Sophie fights with a motorist when he bangs into her yellow scooty, and is present in the film. However, she makes her presence felt more in the first half when their love blossoms but goes missing mostly otherwise. Her character is of lesser consequence and somewhere you feel that Radhika should have been given more weightage.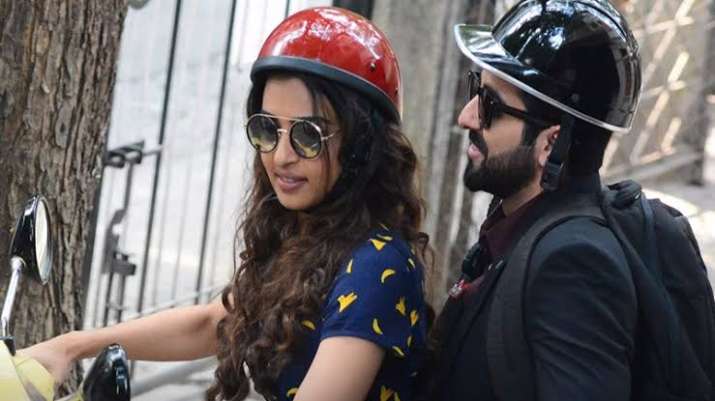 The first half of the movie is just too engaging as your mind will try to gather everything that is happening. The second half has some absurd plot twists which transcend in a different direction shocking the viewers and demanding their attention. Despite the loopholes in the script, this twisted, dark bunch  of characters in the film seem to happily plummet to their dark depths. The nuggets of humour in the first half is also enjoyable.
The music of AndhaDhun is an example of what the piano is capable of in depicting varied seasons and moods. Songs such as Naina Da Kya Kasoor, Aap Se Milkar and Who Ladki are aptly placed in the movie sequence and we must say Amit Tridevi has managed to put together an album that is sweet, edgy, peppy and meditative in equal parts.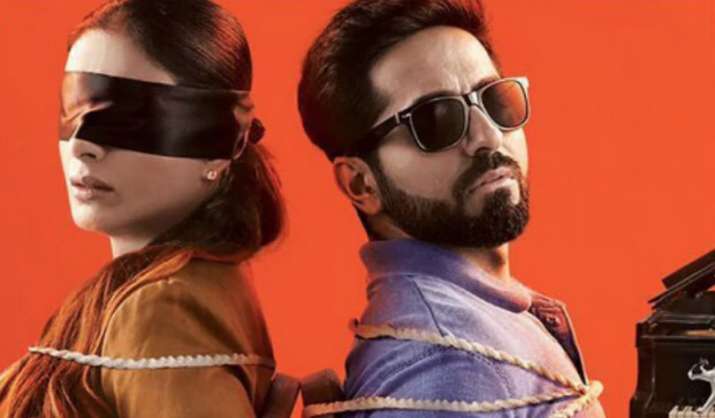 AndhaDhun final verdict
This Tabu, Ayushmann Khurrana and Radhika Apte starrer is a must watch film of 2018. You can never expect or predict what comes next! True to its genre, AndhaDhun is absolutely engaging, compact and gives you all the thrills.