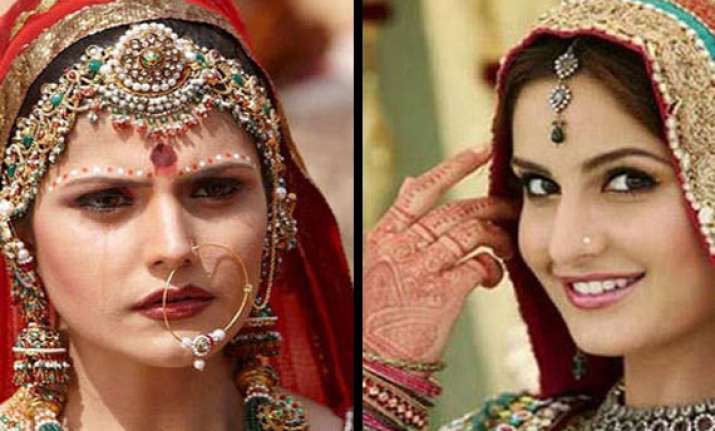 Zarine Khan was once called Fatrina, but even after losing 15 kgs, she still looks like she can lose ten kg more to like  Katrina, says a media report which compared the get-ups of both the actors.

It seems, the report says, Zarine's fashion sense and posturing is particularly influenced by Katrina Kaif.

Zarine has done everything in her power to cash in on her physical similarity by almost modelling herself after Katrina Kaif.




The coloured contact lenses, the side swept layered dark hair, the pink blush cheeks and suspiciously botoxed lips, scream of a girl who is riding the one thing going in her favour that of being a much more successful person's lookalike.

When she began, it was much easier for Zarine to copy Katrina's Indian wear style. Her more than a little curvaceous frame obviously meant that's all she could attempt.

So, one saw the same floor sweeping formal anarkali suits, and the similar style georgette saris on the both of them.

Zarine's appearances, however, were always a few weeks after Katrina's, making it apparent who is getting " inspired" by whom.




Lately, however, after having lost oodles of weight, Zarine seems confident enough to raid Kat's western/ casual wear wardrobe for ideas as well.

She has already tried doing similar gowns for her red carpet appearances but that only made her look a tacky version of Kat.

 During the promotional run up for Ready , where she has done the first item number of her career, Zarine has particularly made it a point to fill in Katrina's shoes in Salman's crew.

From turning up in Being Human t- shirts to cocktail dresses, she has tried everything to add to the glamour quotient left void by Katrina.

Whether Zarine likes it or not, the only way to keep up with Kat's wardrobe is to get a Sheila body now.