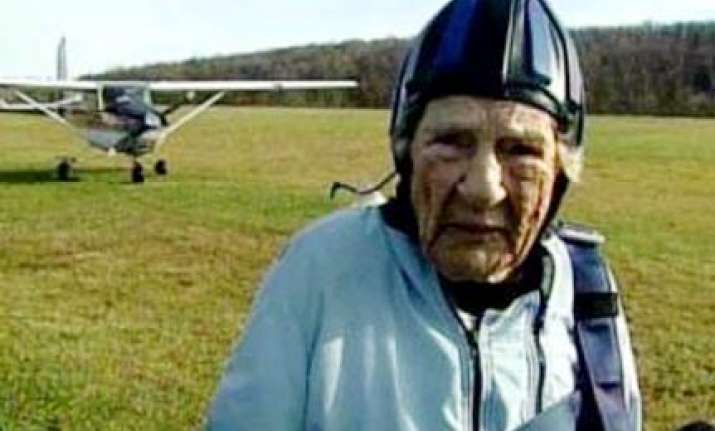 Eleanor Cunningham, 95,  has now done twice in her lifetime what most of us will never do -- skydive.
To celebrate her birthday, Cunningham, better known as "Nanny" of Howes Cave, repeated a feat she accomplished in 2004.
"We went to mass last night," Cunningham said of her and her priest, Father Tom from Our Lady of the Valley in Middleburgh and St. Vincent's in Cobleskill., who decided to join her this year.
After fitting into her jumpsuit at Duanesburg Airport she chatted and waited to celebrate her big day by jumping out of a perfectly good airplane. (watch)
Her family and friends took pictures but most think she's a bit daffy."They're not speaking to me," she said with a laugh.
Five years ago, at age 90, NewsChannel 13 was there as she did this for the first time...high over the skies of Duanesburg. Sunday, she was back at it, with Father Tom."He said he always wanted to jump all his life and never had the time," Nanny said. "I gave him the incentive to do it so I'm responsible for him."
He jumped after she did. So as her granddaughter Karen Simmons and great grandson Tyler Keller led her to the plane...all eyes were on her.Nanny jumped in a tandem formation with Dean McDonald of Duanesburg Skydiving, a company in business for 39 years. A few minutes later, the colorful parachute opened and there they were.
As she jumped, she was thinking: "Get out of that door and get into that wind, that was terrific. "That gave me another five years to my life. How about that? "And when I'm 100, I'm going to the moon. They found water up there."