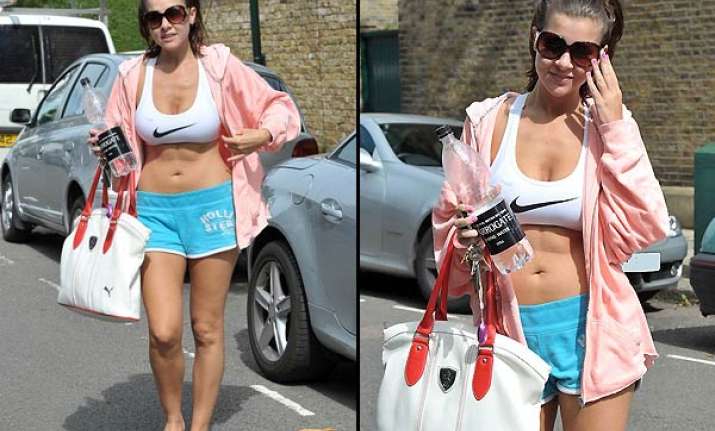 London, Aug 21 : Former Big Brother star and Miss Wales beauty queen Imogen Thomas has said she has got perfect abs after doing Bikram Yoga sessions in a room heated upto 40 degrees C, reports The Daily Mail.

The Welsh model has taken photographs of her figure in lingerie with her mobile and posted them on her Twitter page.


It's all in the name of fitness though and has told her followers that she's on a diet and is working on her abdominals.

She tweeted the snaps and wrote: 'Abs coming… 6 sessions and I'm feeling the best ever.'

And she gave her fans a word of advice too, by tweeting: 'Girls you can do it… trust me.'

She revealed that Bikram Yoga has been part of her workout regime in a bid for a flat stomach.

Imogen tweeted: 'I'm gonna post some photos to show u what bikram yoga does to your body.'

Bikram Yoga is similar to traditional yoga techniques but sessions last for 90 minutes in a heated room of 40.6 degrees Celsius.

It is claimed to facilitate deeper stretching and prevent injury, while reducing stress and tension.

And Imogen is finding that it's doing her abdominal muscles wonders after becoming a huge fan.

The 28-year-old has also been spotted this summer roller skating to workout her thighs, in-between her modelling and presenting gigs.
She has been preparing for her forthcoming calendar recently and tweeted some photographs of herself earlier this month from behind the scenes of the shoot.

The former Miss Wales beauty queen had been shooting in the Spanish town of Marbella.

And was seen posing for a series of photographs at the Sisu Boutique Hotel in Puerto Banus.

She tweeted afterwards: 'Thank u everyone for loving one.