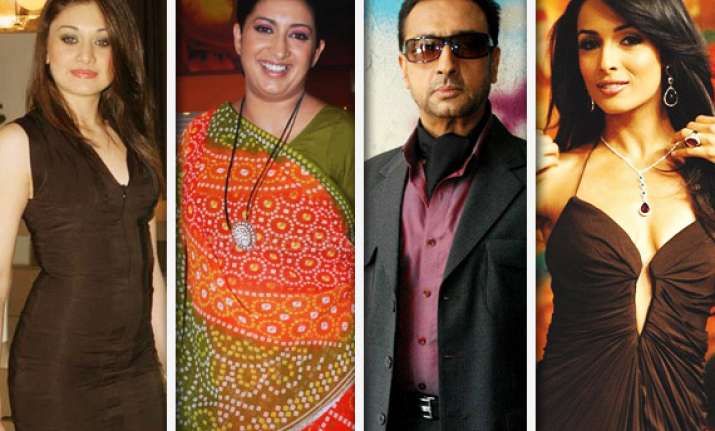 Mumbai, Mar 28: A webpage has published the personal cellphone numbers of several Bollywood celebrities, reports Mumbai Mirror.
The report said, despite call blocking services and repeated attempts to change numbers, many celebrities  have been getting random phone calls over the past four to six months.
Surprisingly, the phone  listed on that webpage are mostly accurate. And those, who have changed their numbers recently, have their old numbers listed on the webpage.
This list published on the Internet might be a dream come true for most fans but has become a nightmare for most celebrities.
"It's a boiling issue for most of us. I get random calls from different cities from people who just want to chat. Fans did call once in a while but over the last four months or so, the number has gone up drastically.
"I have missed important calls due to this. I had that number for the last 15 years. But due to these crank calls, I had to change it. I had been trying to find out who had leaked my number. Thanks to you, I know now," Sonali Kulkarni told Mirror.
Filmmaker Vashu Bhagnani, for instance, had been getting calls from people trying to find work in the industry.
"I can't explain how troublesome it is. Strugglers call up and say, "I have come from Kanpur or some other city and I want work."
"When I am in India, I can still see the number. On international roaming, the number doesn't flash on my phone. These calls come at all odd hours. I can't change my number either. I'll lose many important contacts if I do," said a rather irritated Bhagnani.
Some celebrities like
Malaika Arora
Khan and Konkona Sen Sharma, who choose not to answer calls from unidentified numbers revealed that the number has indeed gone up in the past few months.
Gulshan Grover asked Mumbai Mirror to go ahead and expose such miscreants. "It's a bother. Serious action should be taken against this," said the actor.
The list doesn't end there. Filmmakers Pritish Nandy, Shyam Benegal and even Rajya Sabha MP Smriti Irani have been getting these pestering calls as well.
Shefali Zariwala, feeling helpless, said, "People harass me at all odd hours. Our phone is our office. I can't switch it off or change my number. I don't know what to do."