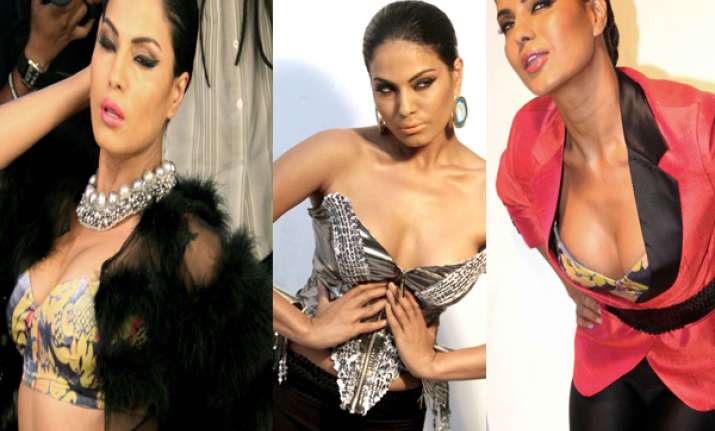 Mumbai, June 14 : Pakistani actor Veena Malik  has openly supported  LGBT (lesbian, gay, bi-sexual, transgender) relationships and has done a sexy photo shoot in support of the LGBT community. 
In an interview to India TV reporter Manish Singh, Veena Malik said, every one has the right to live life the way one wants to live.   
Excerpts from the interview:  
India TV : 
What do you have to say about this photoshoot?
Veena Malik: It was fun , amazing photoshoot. Beautiful hair and makeup, beautiful outfits. We tried out 8 different looks. The entire team has been wonderful. The special thing about the photoshoot is that it was not for any film but my first solo album release.
India TV :
We heard that this shoot was to support LGBT ….
.
Veena : Of course I support LGBT. I support every individual. Everyone has a right to live one's life the way one wants to live.
India TV :
It is being said that since Veena Malik entered Bollywood, she has become 'politically correct'
…
Veena:  That's incorrect.. I still speak from my heart. How many times do you come across an actress you can talk about everything with?
India TV :
Few days ago in the audio release of your album 'Daal me kuch kaala hai', Raja Chaudhary confessed that he wants to marry you, even if he has to rename himself 'Raja Malik'…he indirectly proposed you..
Veena : I think proposals are normal in every girl's life. They often happen. On the other hand, praises or proposals are beautiful.
India TV :
We have seen you acting; very soon we will witness your acting skills but what about singing?
Veena : (With a smile) hmmm... You'll see that soon. I wanted to be a singer since my childhood. People told me that I am beautiful and will do better as an actor.
I always sidelined my desire to sing, but not anymore. It's now or never!
India TV :
As you both are doing remakes of the 'Dirty Picture', do you see Rakhi Sawant as your competition?
Veena : I am not here for competing. I am irreplaceable. Every individual is different and so am I.
In earlier interviews to other publications, Veena gave examples of starlets Kim Kardashian and Lady Gaga, who stand up for gay rights.
"If US President Barack Obama and Hollywood beauties can stand up for gay marriage, why can't every citizen support this cause," she said.
When Malik shared the news of her pro-LGBT stance on micro-blogging site Twitter, the more liberal members on the social media forum applauded her.
One person reacted to Malik's statement by posting "Way to go! LGBT people are loving and caring human beings who deserve happiness, love and acceptance!", while another wrote: "This is why I love her."
Some claimed that she was the first Pakistani celebrity to openly support gay unions.The more conservative quarters, however, expressed their indignation by using profanities. "She is taking all the shortcuts to become famous," read one post.