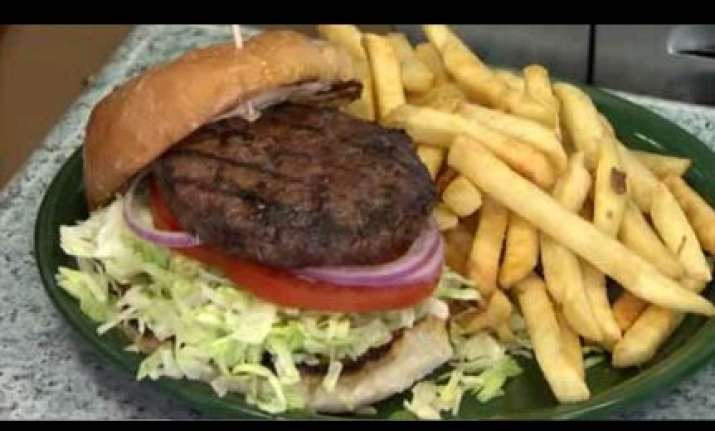 An Arizona restaurant owner dreamed up a novelty meal to give customers a South African treat during the World Cup. He started serving African lion met burgers to his clients, and this has generated protests, reports The Daily Mail, London.
Restaurant owner Cameron Selogie says his Il Vinaio restaurant in Mesa has received a bomb threat and more than 150 e-mails from protesters. He says African lions are on the protected list, but not endangered.
The restaurant ordered 10 pounds of African lion meat from a USDA-regulated, free-range farm in Illinois, which Selogie says he researched to make sure they were humane. It's mixed with ground beef, and the restaurant says it's serving about 15 burgers a day.  
 Selogie said : "Because the lion  is from a farm, it in no way affects the scarcity of lions in Africa."
The restaurant ordered five pounds of the African lion meat from a USDA regulated free-range farm in Illinois, which Selogie said he researched to make sure they were humane. After some positive feedback and more reservations were made, however, they ordered five more pounds.Selogie estimates that only 15 of the burgers will be served each night.
During one of the restaurant's Wine-Pairing dinners, where they serve wine with other uncommon meats such as wild boar, customers heard about the availability of lion meat and seemed interested in trying it. Selogie was inspired by the FIFA World Cup's location and decided to serve the meat to coincide with the games. The restaurant advertised their decision through their e-mail newsletter club to keep the attention to a minimum, but one member and animal activist, Susan Cooper, spread the word.
Cooper said she called the restaurant to clarify their newsletter, thinking the "lion meat" was a joke or a name, but when she discovered it was not she informed other animal advocates about what she calls a "snob appeal" dish. "I'm thoroughly disgusted to say the least," Cooper said. "I've gotten information around to the animal community and everyone is thoroughly disgusted too."
USDA spokesman Jim Brownlee said lion meat is an uncommon dish, but he knew of no prohibitions against it. Selogie said Il Vinaio will be the first restaurant in Arizona to serve it. The lion burgers, which will be mixed with ground beef, will be served with corn and spiced kettle chips. The restaurant will offer a South African wine to complement the $21 dish.
Selogie has interacted with the protesters and replied to their emails. While he does not expect much will happen over the two days, he has informed Mesa Police and bought bottled water for any pickets that may show up at the door each night and according to Cooper, they intend to. "We have been interacting with several of the animal activists and we committed to making a donation to the ASPCA after this, because we are animal lovers," Selogie said.
Selogie did not want to draw too much attention to the dish, which he said will not be put on the regular menu. He said he was reluctant at first about serving the meat and wanted to order as little as possible. Selogie himself has not tried the lion meat yet. "A beautiful, exotic creature that should be out in the wild is being killed for someone to eat as a burger," Cooper said. "What's next? Dogs? Cats? What's the difference?" Il Vinaio is at 270 W. Main St. in Mesa.